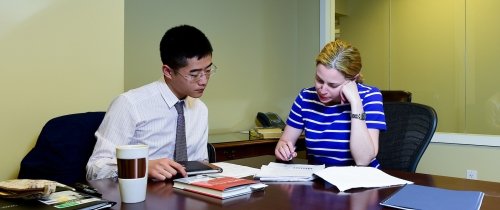 Career Mentor Network
The Career Mentor Network helps Centre students connect with people who have "been there" for career advice and guidance.
The Career Mentor Network is a collection of Centre Alumni (and other friends of the college) willing to provide career information and advice to current Centre students.
Why Should Students Join?
Students get advice and grow their professional network. This is a great opportunity to explore potential career fields, learn more about careers they're interested in, and make connections with people who have a first-hand understanding of what it's like to make the transition from Centre student to working professional.
How Does It Work?
Gain Access. Current students call the Center for Career & Professional Development (CCPD) at 859-238-5283 to gain access to the Career Mentor Network
Find Mentors. Search for mentors by major, career field, job title, geographic location, etc.
Connect. Students send messages to alumni through the online system, along with their contact information, and network members respond. It's that easy!
Why Should Alumni & Friends Become Mentors?
Become a Career Mentor and provide current students with the career advice and guidance you wish you'd had!
Make a Difference. For generations, Centre students have relied on the "Centre mafia" for guidance and mentorship. Connecting with alumni in their chosen fields can have a HUGE impact on a student's career and professional development.
It's Easy and Risk-Free. Registering is quick and easy. You decide what contact information to share with students, so your privacy is protected. Furthermore, you can limit your commitment by frequency of contacts or number of students. Your only obligation is to respond to the students who reach out to you.
How Does It Work?
Register. Create a profile with information about your education and employment.
Get Discovered. Your profile will be seen by students searching for your area(s) of expertise.
Connect. Students will reach out to you through our online system, CentreWorks. You can chat there or move the conversation to email, phone, or in-person.