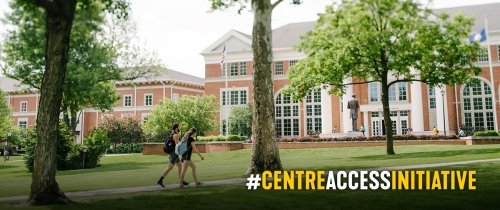 Centre College announces $50 million scholarship initiative
Centre College announces $50 million scholarship initiative
The largest grant in the College's history will allow Centre to partner with the Schuler Education Foundation to invest $50 million over 10 years in new scholarship funding to support underserved students.
A $20 million grant from the Schuler Education Foundation to Centre will be matched by a $20 million gift from an anonymous College donor immediately. In addition, Centre plans to raise $10 million more in matching funds over the next 10 years. The gifts and challenge will help students thrive at the College and pursue rewarding careers after graduation.
Centre is among five highly selective colleges most recently selected to participate in the Schuler Access Initiative, which aims to enroll more talented students who are Pell-eligible or with undocumented status at the nation's top liberal arts colleges. Centre joins Barnard College, the College of the Holy Cross, Scripps College, and Trinity College in the second cohort of the Initiative. Last year, the Schuler Access Initiative partnered with Bates College, Carleton College, Kenyon College, Tufts University, and Union College.
"Every day, our community demonstrates that an extraordinary liberal arts and sciences education leads our graduates to meaningful lives and purposeful careers," said President Milton C. Moreland. "I am deeply grateful for the generosity of the Schuler Education Foundation—as well as our anonymous donor—for helping us to provide an ambitious model of support for deserving students."
The Schuler Education Foundation will work with up to 20 highly selective liberal arts colleges and will spend $500 million over the next 10 years as part of the initiative. The Foundation notes that with matching funds the project will generate a potential investment of $1 billion in underserved populations.
"A liberal arts education is unique to the United States and has proven to be a great foundation for success in post-graduate studies," said Jack Schuler, co-founder of the Foundation. "By partnering with these five additional top colleges who serve a broad range of students, we have the opportunity to support even more undocumented and Pell-eligible students."
"Our family focuses on underrepresented, undocumented and low-income students, because we know that they are smart, capable, hard-working, ambitious students who, when given equal access to opportunities, do great things to benefit our communities," said Tanya Schuler Sharman, co-founder of the Schuler Education Foundation. "We are thrilled to partner with five additional top colleges that have shown their desire to broaden their support for these students by meeting 100 percent of need for all four years and have proven that they have great graduation rates for all students."
Over the course of a decade, the funds will allow Centre to welcome more than 120 talented students to our campus community who might not otherwise be able to afford to attend the College.
"This investment from the Schuler Education Foundation will enable us to strengthen our already robust support for talented students, regardless of their family's circumstances," said Mark Nunnelly, chair of the Centre College Board of Trustees. "With outstanding financial aid, academic preparation and career support, there is no limit to what our students can achieve."
This historic new scholarship funding adds to past philanthropy at Centre, which has established scholarships with the James Graham Brown Foundation, the Posse Foundation, the Bonner Foundation, and endowed scholarships in Centre's own Lincoln and Grissom programs. The Grissom Scholars Program, a full-tuition-plus scholarship initiative launched in 2015 with a gift from former board chair, David Grissom, and his wife, Marlene, has helped raise the institution's percentage of first-generation students from 8.9 percent to 21 percent. Centre has also made significant investments to grow enrollment of Pell-eligible students from 14.5 percent in 2013-14 to 21.2 percent in 2021-22. As part of this new initiative, and in alignment with Centre's strategic plan, the College is committing to increasing the number of students who are Pell-eligible or ineligible for federal aid to 25 percent in the next five years.
In April, an anonymous benefactor made a $10 million commitment to enhance student success for all first-generation students. That gift enables Centre to provide all incoming first-gen students with $5,000 in enrichment funding, in addition to their generous financial aid packages. These funds are designed to address students' individual needs and interests and may be used to pursue independent research, internships, study abroad and study away experiences. Recipients may also use the funds to pay for a laptop, textbooks or emergency expenses at any time during their four years at the College. Centre was also recently recognized as one of 10 schools in the nation to receive a $1 million grant from and be named a partner in the Kessler Scholars Collaborative to improve college access and success for talented first-generation students.
"We are confident in meeting this $10 million fundraising challenge. Our community recognizes that a strong liberal arts and sciences curriculum and extraordinary career support provides students with opportunities to make a real impact in the world," said Kelly Knetsche, vice president for development and alumni engagement. "We extend our gratitude to the Schuler Education Foundation for championing these issues, and we look forward to partnering with Centre alumni, parents and friends to support the diverse leaders of the future."
About the Schuler Education Foundation and the Schuler Scholar Program

The Schuler Education Foundation seeks to further the success of individuals and communities by investing in high-achieving underrepresented and undocumented students and top-tier liberal arts colleges.
The Foundation achieves this primarily through the Schuler Scholar Program, which prepares low income, first generation, underrepresented students to get access to and succeed at highly selective liberal arts colleges. The Schuler Scholar Program currently serves over 1,000 students, in 15 partner high schools across Chicagoland and Milwaukee, and across most of the highly selective liberal arts colleges in America.
The Foundation also funds collaborations between colleges to strengthen their long-term health and effectiveness, including the Schuler Young Alumni Initiative, which focuses on engaging "millennial" liberal arts college alumni, and the Schuler Access Initiative.
About Centre College

Centre College is a premier national liberal arts and sciences college, serving approximately 1,400 students. Providing an extraordinary community and a supportive, personal academic path to a meaningful life and career, Centre is located in the heart of Kentucky's Bluegrass region. The College awards more than $41 million in scholarships and grants each year and more than 90% of students receive aid. Centre is one of the nation's preeminent institutions for study abroad, with programs from Mexico to Bhutan to France, as well as study away programs in Washington, D.C., New York City, and Lake Tahoe, California.