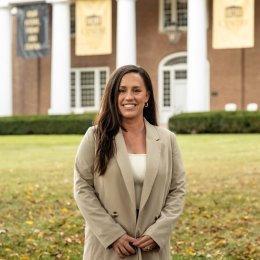 Jenelle Anthony Downs
Leadership Annual Giving Officer
Offices & Programs
BIOGRAPHY
Jenelle Anthony Downs was the head coach of Centre College field hockey from 2011-2021, amassing a 141-53 overall record. She was promoted to the assistant athletic director for development in 2021.
Most recently, Centre went 15-4 overall and reached the NCAA Sweet 16 following an SAA regular season title. Downs was named SAA Coach of the Year for the seventh time in her career.
Downs' team put together a historic 2019 campaign, going 18-1 overall and finishing the regular season undefeated (16-0) for the first time in program history. The Colonels captured the regular season and SAA Tournament championships, setting a record for most wins in a season in the conference title game victory over Rhodes.
Centre peaked at No. 12 on the NFHCA Coaches Poll - the program's highest ranking ever - and hauled in a bevy of individual and team honors. Caroline Brotzge was named the Great Lakes Region Player of the Year and was joined by Savannah Elpers on the list of NFHCA All-Americans. Brotzge (Defensive) and Elpers (Offensive) also garnered SAA Player of the Year awards, and Downs was selected as the conference's Coach of the Year. She and Olivia Shagam were recognized as the NFHCA Great Lakes Region Coaching Staff of the Year, as well.
All told, the 2019 Colonels had six All-SAA selections and five All-Region honorees and claimed four NCAA statistical championships: goals per game (4.58), scoring average (4.48), points per game (11.53), and scoring margin (3.87). As a team, Centre earned the NFHCA Academic Team Award (3.0 GPA or higher) while 14 individuals finished with a 3.30 GPA or higher to land on the NFHCA National Academic Squad.
In 2018, the Colonels won the SAA Regular Season Championship and finished with a 12-4 overall record, landing three All-SAA First Team and All-Region honorees in Caroline Brotzge, Savannah Elpers, and Sarah Biggs.
In 2017, Downs led perhaps the best season in Centre field hockey history, leading the team to its first-ever NCAA Elite Eight appearance. The Colonels, who also captured their second SAA Tournament Championship under Downs, went 17-5 to set a program record for wins. Anthony garnered both SAA and NFHCA Region Coach of the Year honors and mentored a pair of NFHCA All-Americans in Brooklyn Bell and Hayley Barker.
Since taking over in 2011, she's mentored 41 All-Conference selections, 10 total SAA players of the year (five defensive, five offensive, one newcomer), 37 NFHCA All-Region picks, and nine NFHCA All-Americans.
Seven of her teams have earned NFHCA Academic Team Awards, and she's had 74 individual NFHCA National Academic Selections and six NFHCA Scholars of Distinction.
Prior to joining the Colonels, Downs was the Graduate Assistant Field Hockey Coach at Manhattanville College in Purchase, N.Y. In addition, she coached for the Revolution Field Hockey Club in New York/Connecticut, and the Beyond Sticks Camp Programs in Virginia/Washington D.C. Area has worked several Division I summer camp programs, and has also been a volunteer coach at high schools in her home state of Pennsylvania. Downs completed her Master of Science Degree in Sports Business Management in May 2011.
Downs received her Bachelor's Degree in Graphic Design and Advertising from Susquehanna University in Selinsgrove, Pa. where she was a 4-year Varsity Letter Winner, Team Captain, First and Second Team All-Landmark Conference Selection, and Longstreth/NFHCA All-South Atlantic Region All American Selection. Downs was coached at Susquehanna by Amy Cohen (playing career: Lafayette '02; Coached at University of Delaware, and currently coaches NCAA DII 2011 & 2012 National Champions, Westchester University).
Before college, downs was a player for the East Coast Field Hockey Club team based out of Hershey/Harrisburg, Pa. coached under Bill Gaudette and many other international players including former Head Coach of Argentina Women's National Team and Two Time Olympic Gold Medalists, Rudolfo (Rudy) Mendoza. During her time with the club, she participated in the National Field Hockey Festivals in both California and Florida. Other tournaments include the National Indoor Tournament, University of Richmond Tournament, Towson Tournament, Delaware State Games, etc. Downs was also a member of the 2004 Keystone State Games Lehigh Valley Team that took the Silver Medal under Emmaus High School Head Coach Sue Butz-Staven. Anthony attended and played at Stroudsburg High School in Stroudsburg, Pa.
Promoted to Leadership Annual Giving Officer in 2023