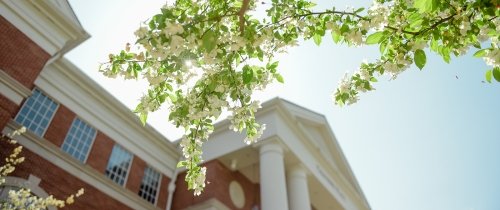 Financial Aid
We're committed to making a Centre education possible for all students.
Financial aid — such as scholarships, grants, and loans — can help you and your family meet the total cost of attendance. In addition to participating in federal and state aid programs, Centre College will this year commit more than $40 million in institutional aid to support scholarships and grants. 
Types of Financial Aid
Financial Aid at Centre comes in four types and includes both merit-based and need-based aid. Need-based aid includes grants, loans, and work-study. Merit-based aid includes scholarships.
Need-Based Aid
Grants are need-based financial aid awards that do not need to be repaid. These include options from the state and federal government and the Centre College endowment. 
Student loans offer low interest rates and defer repayment until graduation. They include the Stafford Loan and Parent Loan for Undergraduate Students (PLUS).
Federal Work-Study allows eligible students to work on campus to earn money for college expenses.
How Need-Based Aid is Determined
Need-based financial aid is typically based on your Expected Family Contribution (EFC), a relative measure of your family's ability to pay for college. Your EFC is determined by information from your FAFSA. In addition to the FAFSA, we require the Centre Aid Form which assists us in determining your eligibility for institutional aid. These factors include income, assets, family size, and the number of family members in college.
Merit-Based Scholarships
Merit scholarships (based on talent, academic achievement, leadership, extracurricular activities, etc.) are gift aid awards that range in value and are often renewable for four years. We have three types of scholarships: general merit scholarships, special scholarships, and premier scholarships.
How to Apply for Financial Aid
We determine need-based financial aid awards based on information collected via the Free Application for Federal Student Aid (FAFSA) and the Centre Aid Form. 
Applying for Need-Based AidFAFSA FormCentre Aid Form
Timeline
| Admission Plan | Application Deadline | Priority Aid Deadline | Aid Notification |
| --- | --- | --- | --- |
| Early Decision | November 15 | November 15 | Early January |
| Early Action | December 1 | December 1 | Late February |
| Regular Decision | January 15 | January 15 | Mid- |