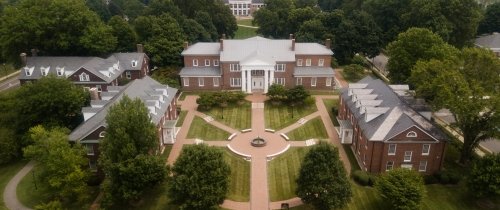 President's Office
Get to know Centre College President Milton C. Moreland, the Centre Board of Trustees and the college's senior leadership team.
Our President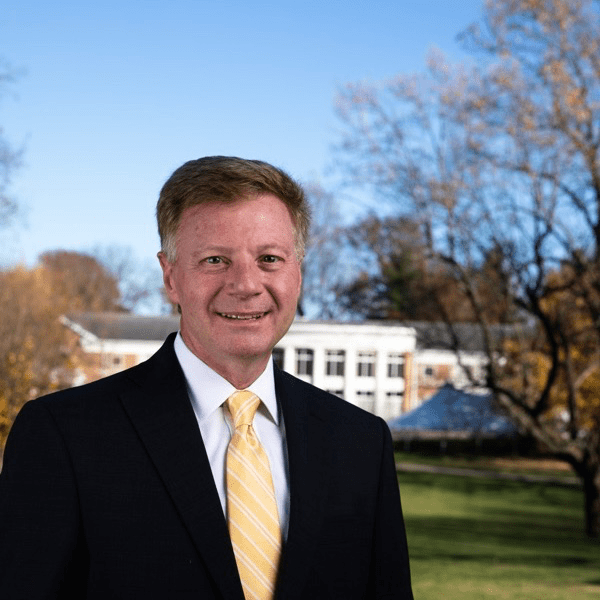 Centre College is governed by a self-perpetuating Board of Trustees, including alumni, parents, and friends, who bring a strong commitment to the College's academic mission and long-term interests.
Bringing a wealth of expertise in their respective fields, the President's senior leadership team works to advance the highest ideals of a liberal arts and sciences college. 
A native of Boise, Idaho, he earned his undergraduate degree in history with honors from the University of Memphis, where his mentor, Dr. Marcus Orr, introduced him to the joy of studying ancient texts, languages, and artifacts. Moreland wrote his honors thesis on the Nag Hammadi Library, a set of early Christian texts discovered in Egypt in 1945. He continued his study of archaeology, ancient history, and religion at the Claremont Graduate University in California, where he earned his MA and Ph.D. degrees.
His scholarly work appears in leading journals and focuses on Roman archaeology and religious traditions in the Mediterranean region. Moreland has also edited several books, including Between Text and Artifact: Integrating Archaeology into Biblical Studies Teaching.
Prior to joining the Centre community, Moreland served for 6 years as the Provost and chief academic officer at Rhodes College. He first joined the Rhodes campus community in 2003 and was promoted to associate and then full professor, serving as the R.A. Webb Professor of Religious Studies, and Chair of the Archaeology Program.
During that time, Moreland directed the Rhodes Institute for Regional Studies, and was the founding director of the Lynne and Henry Turley Memphis Center. Outside of the classroom, his field work with students has involved travel to sites in Jordan, Turkey, Greece, and Germany, including collaboration with the Duke University Field School in Israel. Moreland was on the senior staff of the Sepphoris Regional Archaeological Project in Galilee for over 20 years.
Moreland is joined at Centre by his wife, Dina, a native of Chesterfield, Indiana, and a former national champion racquetball player who competed on the USA team. She attended the University of Memphis, completing her bachelor's and master's degrees in gerontology and educational studies, and began her career as a pharmaceutical salesperson in southern California, while touring as a professional racquetball player in the 1990s. From 2003 – 2020, Dina was an elementary school teacher in Memphis.
The Morelands have two grown children. Marcus, a 2016 graduate of Rhodes College, who majored in business and now works as a manager for a logistics company in Memphis, and Micah, a 2020 graduate of Rhodes College who was an international studies major and Asian studies minor, who now works as a consultant in digital marketing in Memphis. Both of their sons were student-athletes, Marcus in baseball and Micah in football.
The mission of Institutional Research is to aid in the timely collection, analysis, and dissemination of institutional related information. This includes providing information to support planning, evaluation, and management.
Common Data Sets
The Common Data Set is a product of the Common Data Set Initiative, a collaborative effort among data providers in the higher education community and publishers as represented by the College Board, Peterson's, and U.S. News & World Report.
The stated goal is to provide accurate and timely data to students and their families while decreasing the workload of administrators. In producing their popular publications and rankings, these publishers "ask the same core questions" of institutions using the Common Data Set to define those questions and their responses.
NSSE Report
NSSE uses the College Student Report to survey hundreds of colleges and universities each year. The survey results point to areas where colleges and universities are performing well and aspects of the undergraduate experience that could be improved. Learn more at the NSSE website.
Jamey Leahey, Vice President of Legal Affairs and Gift Planning, is responsible for overseeing Centre College's legal obligations and regulations.
Leahey serves Centre in several capacities. His primary roles are as the College's in-house attorney and as the director of the estate and planned giving programs with the development office. In the additional role of pre-law advisor, he works with students contemplating and preparing for law school and legal careers. During the CentreTerms, he teaches classes related to law, jurisprudence, and the judicial system.
Policies and Statements
Learn more about official policies and statements at Centre College