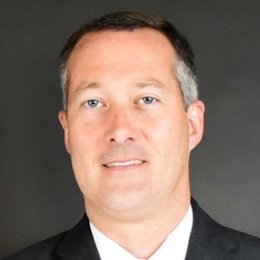 Brad Fields
Director of Athletics and Recreation
Offices & Programs
BIOGRAPHY
Brad Fields, a 1998 Centre graduate, has served as director of athletics and recreation since returning to Centre in 2013. Centre has achieved a great deal of success in Fields' years of leadership, as 11 programs have combined to win over 40 Southern Athletic Association championships between the regular season and tournament competition. 
In addition, Centre has had several programs make the NCAA Postseason, highlighted by "Final Four" runs from women's soccer in 2015 and men's soccer in 2019. Individually, Annie Rodenfels captured three NCAA Track & Field Championships during the 2018 and 2019 seasons. 
In 2018-19, buoyed by a record-setting fall that saw NCAA postseason appearances from football, women's cross country and men's and women's soccer, Centre finished 62nd out of almost 450 Division III institutions in the Learfield Directors' Cup. It was the second-best mark in the department's history and was first among all SAA schools. 
Fields has managed several facility upgrades during his tenure. During the summer of 2015, Fields oversaw a major renovation project in Sutcliffe Hall, the college's main athletic facility. The 10,000-square foot transformation included the revamping of seven locker rooms, nearly 300 new lockers, three hallways, the athletic training room, the laundry room, the coach's locker room, as well as a new team room for meetings and special events. Later, would receive much-needed renovations, as well. 
Other new projects and renovations led by Fields include the Fishman Center, Seabury Family Tennis Center, and perhaps the most notable, Andrew P. Amend Field. 
Fields guided a rebranding effort for Centre Athletics in 2015, leading a committee that generated a new unified visual identity for the athletic department. Along with the rebranding, Fields directed a department restructuring for the 2015-16 academic year, which included the addition of the Deputy Athletic Director position. This new role has helped shape a growing external communications staff that features a three-person Communications department. 
During his tenure, Fields is responsible for the hiring of several head coaches, including two that have already been named SAA Coach of the Year in Grant Zimmerman (men's lacrosse) and Monica Scott (women's lacrosse). 
Additionally, in his first year, Fields served on the SAA Athletic Directors Executive Committee. He is also a member of Centre College's senior staff. 
A native of Ashland, Ky., Fields earned a B.S. degree at Centre with a double major in economics and Spanish. He later earned an M.S. degree in sports management, with an emphasis in intercollegiate administration, from the California University of Pennsylvania. His graduate-level work included courses in ethics, finance, leadership, legal aspects of the sport, management, NCAA compliance, public relations, sports marketing, and Title IX. 
"As a proud alumnus, it is a challenge to put into words the profound impact Centre has had in shaping me—not just in my four years as an undergraduate, but through the lifelong relationships I enjoy with so many who continue to be a positive influence," said Fields. 
"To combine my passion for Division III athletics and Centre College is truly a special opportunity," Fields added. "I believe that Centre athletics is poised to become one of the elite Division III programs in the country, joining Centre's presence on the national academic landscape." 
Fields began his career in 1999 at the University of South Carolina-Aiken, an NCAA Division II school that competes in the Peach Belt Conference and fields 11 collegiate teams. He served as sports information director for four years at USC Aiken before being promoted to assistant athletic director. His work won numerous awards from CoSIDA, the College Sports Information Directors of America. Fields returned to Kentucky in 2008, taking the position of director of athletic media relations at Western Kentucky University, a Division I program competing in the Sun Belt Conference. From there, Fields moved in 2010 to a position as athletic director at Eastern University, which fields 16 intercollegiate sports. 
During his tenure at Eastern, the Eagles combined for six regular season conference titles, eight conference tournament crowns, and 14 NCAA Tournament appearances, including an NCAA Final Four trip by volleyball in 2011. In addition, Eastern student-athletes achieved a graduation rate 16.7 percent higher than the rest of the student body, maintaining a cumulative GPA of 3.11 in the 2012-13 academic year. 
Fields and his wife, Julie, have three children, Maddie, Emma, and Katelyn.