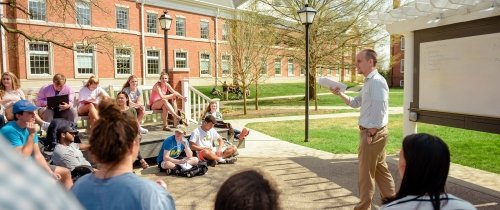 Scholarships & Fellowships
Scholarships & Fellowships
Centre College offers a range of fellowship and scholarship programs to help fund your education and make it more affordable.
There are three types of scholarships — merit, premier, and special. They all provide financial support in different ways, and each has its own application process and award requirements.
Consideration for some scholarships is automatic upon completion of the Common App - so apply to Centre today to determine your eligibility for scholarships.

Apply to Centre
Nominations
Although you don't need a scholarship nomination to apply for scholarships, the Admission office welcomes nominations to help us identify and learn more about you as a potential candidate. 
Who can nominate you? School counselors, core-course teachers, community-based organization liaisons, employers, or independent college counselors are welcome to speak on your behalf. The priority deadline for nominations is December 15, but we accept nominations through January 15.