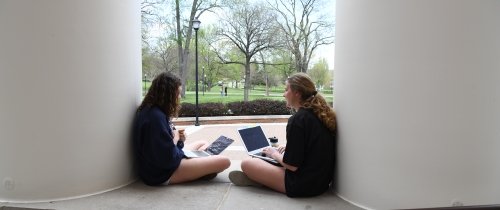 Curriculum
At Centre College, all students graduate with the skills, abilities, knowledge, and curiosity to change the world.
---
Your classes at the College will feature maximum flexibility within a few basic guidelines, known as the general education curriculum. These courses will help you develop your existing skills and allow you to explore the academic opportunities Centre has to offer. 
---
Centre's general education curriculum helps students to:
Excel in writing and public speaking as well as learn to communicate effectively in an additional language, and with numbers
Learn about communities and their differences–from the local to the global, now and in the past–including an appreciation of diverse lived experiences and how power affects those experiences
Develop a broad knowledge of science and creative expression like the arts, and literature, and philosophy in all of their forms
Understand environmental sustainability
Think critically and introspectively, solve problems, and work collaboratively
With support from your advisor and other faculty members, you will design your own path to future success, in any form you want it to take!