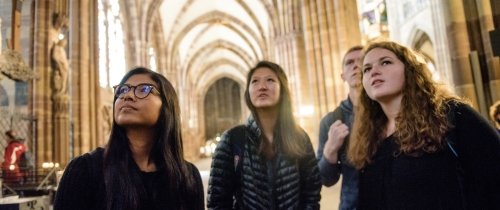 Study Abroad & Away
Centre is a national leader in study abroad with 85% of students studying abroad at least once—48% do so more than once.
Study Abroad
All Centre students are guaranteed a study abroad opportunity. As a national leader with over 30 international locations each year, we provide an immersive educational experience inside and outside the classroom where faculty-led excursions increase your knowledge of each region and its culture. Our faculty go abroad too, allowing them to live on site with you, share their knowledge of the region, and plan trips and activities. Each year about 25 of our faculty—from disciplines across the academic spectrum—teach their subjects in the context of another culture.
Semester-Long Study Abroad
Travel the world in semester-long residential programs led by Centre professors. These fall and spring opportunities cost the same as room and board back on campus, making Centre the least expensive way to live and learn abroad. We offer 20 semester-long programs in 11 countries. Study abroad is so important to your education that every student is guaranteed an international experience opportunity.
CentreTerm and Summer Term Study Abroad
We also offer shorter travel abroad experiences during CentreTerm and summer term to nearly every continent. All CentreTerm and summer courses are faculty led which means that students travel with a faculty member who is an expert on the location and subject matter. Previous trips include primate study in Barbados, religion in Israel/Palestine, law & economics in Fiji, justice & community in El Salvador, environmental studies in Belize, history & humanities in South Africa, music in Ireland, and humanities in Finland. Cost of shorter abroad programs vary.