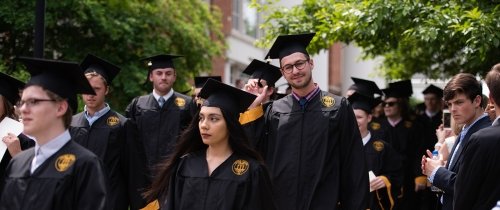 Success After Centre
Working toward success from day one
Connect with the Center for Career & Professional Development in the fall of your first year. Your personal career coach will help you explore majors and careers, find summer jobs and internships, work on résumés and cover letters for graduate school and jobs, and network with alumni.
An outstanding academic reputation adds value to your degree. Centre is ranked among America's leading institutions by Forbes, Princeton Review, U.S. News, and virtually all other guidebooks.
Personal attention from outstanding professors allows you to progress faster. Our 10-to-1 student-to-faculty ratio means your professors will know you by name—not as a number.
Our international study options broaden your perspective and give you a competitive advantage in the global economy. Centre is ranked among the top in the nation for percentage of students who study abroad. It might even help you join the 16 percent who find that first job in another country.    
Leadership opportunities enable you to develop to your fullest and prepare for rewarding success in your life's work.
Center for Career & Professional Development
No. 1 in the Nation for Graduates Happy With Their College Experience
 

"Centre grads simply can't glow enough about their … academic gem in the geographic center of Kentucky." - Alumni Factor