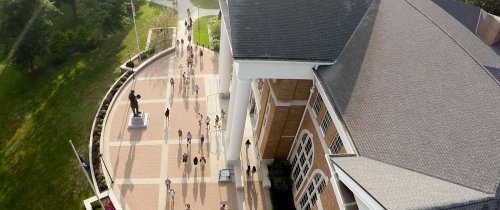 How to Apply
Did you know that applying to Centre is not only easy but also completely free?
Whether you're ready to begin your Centre journey or looking for more information about the transformative experiences waiting for you here, we've got the information you need to know about the application process, admission requirements, and key timelines.
Apply Now Explore Admission Requirements
Preliminary Application
If you have a strong interest in Centre and want to receive early admission information, fill out our quick Pre-Application, which asks for some basic information, including an unofficial copy of your transcript and a short list of your activities or areas of interest.
By completing our Pre-Application, you'll receive an early prediction of your admission decision and the likelihood of being selected for a merit scholarship in our official application process. 
It's a great way to feel more confident about your college options! 
We accept Pre-Applications through November 15. You will hear from us about a week after submitting your Pre-Application.
Pre-Application results include estimates for merit scholarships only. 
For more information on financial aid options, contact your admission counselor after completing the Pre-Application form or estimate your cost using one of our tools.
The preliminary application does not replace the official application. To be formally considered for admission to Centre, you must apply using the Common App, which is free! 
The preliminary application period for fall 2024 has expired. The fall 2025 period will open in July 2024.