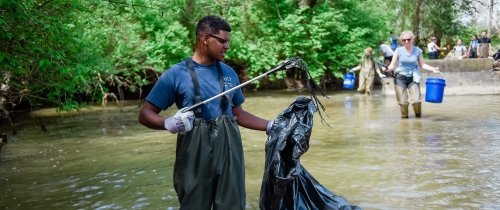 Community Engagement
Why wait for graduation to start having an impact on the world?
The mission of Centre College is to prepare students for lives of learning, leadership, and service in a global society.
For students at Centre, community engagement is not just a one-time activity – it's a way of life – an opportunity for the life-long integration of learning and service. You have the opportunity to work with and learn from change makers on the ground.
Community-Based Learning
Community-based learning is a part of our core curriculum and includes sustained, extensive work outside the classroom; significant integration of community perspective; and alignment between community and classroom learning. Recent Centre classes have included oral histories of the African-American community in Boyle County for the We Were Here Exhibition at the Norton Center for the Arts; invasive species removal, water quality sampling, macroinvertebrate inventory, and other work in local watersheds; and student engagement with art conservation students at Ecole Supérieure d'Art d'Avignon, an art conservation school.