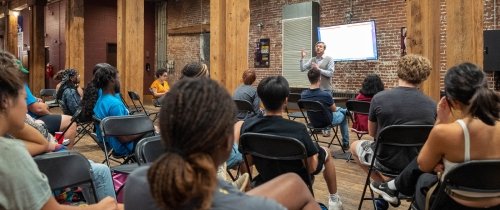 New Horizons Program
Building and strengthening a community of diverse student leaders
New Horizons Scholars are student leaders with an enthusiasm for diversity and inclusion work. The New Horizons Program is designed to provide a diverse group of students with the opportunity to build professional development skills, empathy, community, and an appreciation for service learning. New Horizons scholars engage the Centre community to promote inclusivity and create a culture of caring. Domestic first-year applicants are eligible for the New Horizons Program. 
New Horizons Scholars Have: 
Genuine interest in diversity issues and inclusion efforts 
Strong character with the desire and capacity to lead change 
Eagerness to work collaboratively with peers on meaningful campus-wide projects 
New Horizons Program Benefits 
$30,000 renewable scholarship 
Cohort-based mentorship 
Leadership development curriculum 
Priority consideration for need-based financial aid 
How to Apply 
Apply for admission by January 15. We use the Common Application exclusively and there is no fee to apply. 
Complete a New Horizons Program Candidate Form to indicate your interest in the New Horizons Program. Applicants should complete the Program Candidate Form by the deadline of their chosen application plan. (Early Decision – Dec 1, Early Action – Dec 1, Regular Decision – Jan 15) 
New Horizons Program Candidate Form
Applicants will be notified of their status no later than Mid-March. Applicants who have been given an Alternate Status will be notified of their final decision no later than Mid-April.
Nominations 
Although a scholarship nomination is not required in order to apply for special scholarships, the admission office welcomes nominations to help us identify and learn more about potential scholarship candidates. A nomination can be completed by a school counselor, core-course teacher, community-based organization liaison, employer, or independent college counselor. The priority deadline for nominations is December 15, but we accept nominations through January 15.