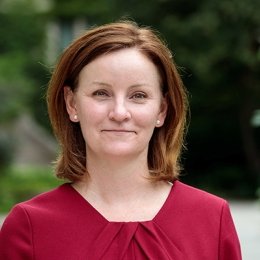 Sarah Nolan
Vice President for Strategic Marketing and Communications
Offices & Programs
BIOGRAPHY
Sarah Nolan joined Centre College in September 2021 as Vice President for Strategic Marketing and Communications. Prior to Centre, Nolan had been Vice President for Alumni Relations & Development and Campaign Communications at the University of Chicago, where she was responsible for the creation and execution of strategic, philanthropic communications and digital marketing. In this role, she oversaw a team of writers, designers, and web developers who worked on major gift proposals and announcements, the University of Chicago Magazine, the College and Humanities division magazines, digital channels, and direct response campaigns. She was the first-ever director of international communications at the University of Chicago, working on public relations and reputation management in China, India, Europe, and elsewhere around the world.
Nolan has been a strong advocate for diversity, equity, and inclusion (DEI) issues; and has considerable experience leading data-driven marketing strategies, marketing automation initiatives, and audience segmentation.
Before beginning her work in higher education, Nolan enjoyed a career in government and politics.
At the U.S. Department of State, she served as the acting deputy special representative and senior advisor for global partnerships in the Secretary's Office of Global Partnerships. Prior to that, Nolan held the position of assistant chief of protocol for diplomatic partnerships. Nolan helped create and execute several public-private partnerships in these roles that brought together the U.S. and foreign government officials, as well as business, academic and civic leaders.
Prior to her work in the diplomatic corps, Nolan worked on a number of U.S. political campaigns at both the state and national levels, including three presidential campaigns.
In addition to earning a Master of Arts degree in art history and modern history from the University of St. Andrews in Scotland, Nolan has pursued further education at the University of Chicago in the advanced leadership program and through the executive education program at Chicago's Booth School of Business.