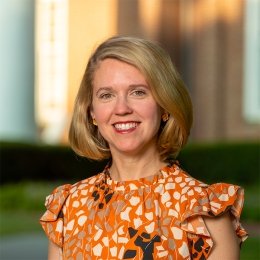 Lesley Stout Bilby
Executive Director of Strategic Initiatives & External Relations
Offices & Programs
BIOGRAPHY
Lesley Stout Bilby '02 joined Centre in 2021 to serve as executive director of strategic initiatives & external relations.
A Kentucky native with a Bachelor of Arts in international relations from Centre, a Master of Philosophy in international relations from the University of Cambridge, and a Juris Doctor from the University of Kentucky College of Law, Bilby served most recently as assistant state treasurer and chief of staff for the Kentucky State Treasury.
In addition, she previously held two positions with the Kentucky Personnel Cabinet, including executive director of legal services and deputy secretary.
Prior to her work with the Kentucky Personnel Cabinet and State Treasury, Bilby assisted legal clients in state and federal court on cases involving the Americans with Disabilities Act, Title VII, the Family, and Medical Leave Act, and the Age Discrimination in Employment Act. Immediately after law school, she secured highly competitive federal judicial clerkships at both the district court and court of appeals levels.