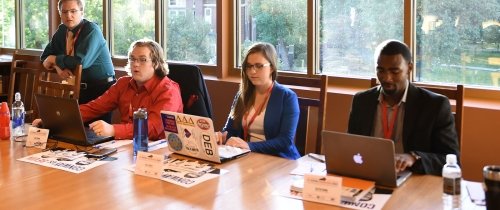 The perspectives and skills acquired by students in politics classes will serve them in a wide range of career fields, including business, journalism, law, politics, and public service.
Overview
The Politics Program is designed to assist students in developing the arts of deliberation and judgment by which they may understand more fully and participate more effectively in public affairs. Analytical reasoning, effective writing, and proficiency in basic research techniques are skills cultivated and used throughout the program.
Emphasis is placed not so much on the changing details of current events, but on the philosophical, historical, and institutional nature of the persistent problems that current issues illustrate. Students can anticipate a rigorous inquiry into political philosophy, American government, comparative government, and international relations. Students are offered a diversity of non-classroom learning experiences. The Politics Program encourages independent study, internships, and off-campus academic programs.
Your Major Took You Where?
Politics majors have gone on to a variety of graduate programs and careers.
Employers
Americans for Tax Reform
Commission on Presidential Debates
Courthouse Courier
Senator Pat Toomey
Strategic Marketing, SM
Postgraduate Study
Case Western Reserve University (J.D., international law)
University of Cincinnati (M.B.A., business administration)
University of Louisville School of Law (J.D., human/civil rights)
University of Southern California (M.A., film studies)
Washington & Lee School of Law (J.D., criminal law)
Curriculum
Politics majors take courses that cover basic ideas, concepts, vocabulary, and issues shaping contemporary American politics. Students are introduced to core global political institutions: legislatures, executives, electoral systems, economic systems, etc. Sophomore-level courses include American Political Thought, Law and Society, and Introduction to International Relations. The major requires additional courses in political philosophy, public law, American politics, and political analysis and application.