Hollywood writer/showrunner shares stories of opportunity and perseverance with Centre students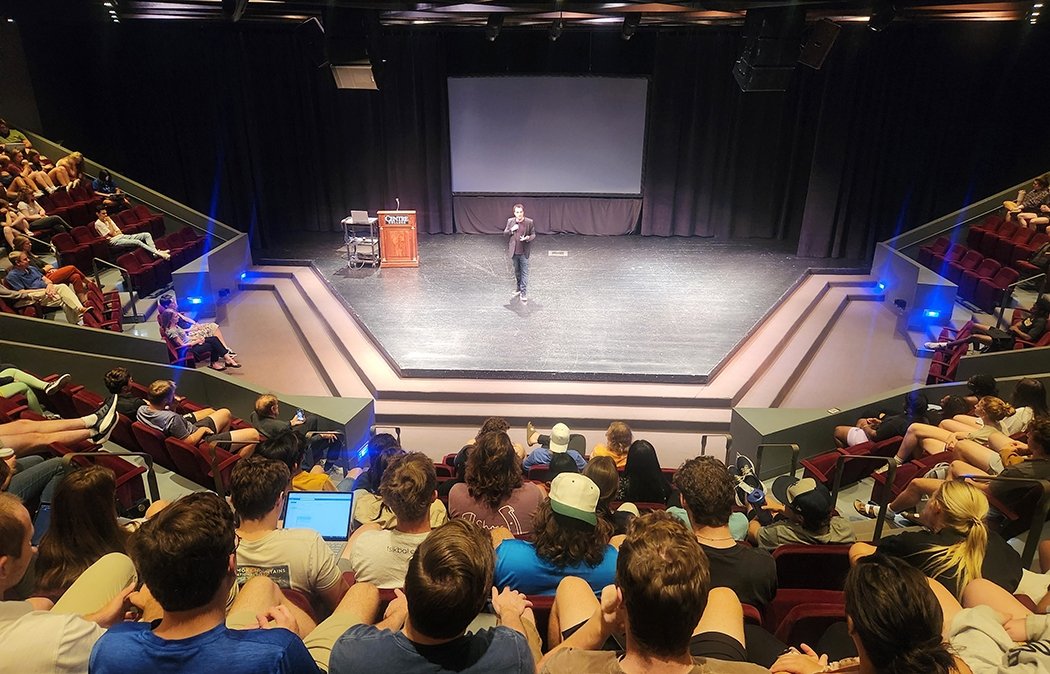 Matt Arnold '96 thought his fight to transform from a physics major at Centre College to an in-demand Hollywood filmmaker was complete. 
He had been grinding away in a strange town far from home for years, working for free to get close to the filmmakers he adored and on set to learn the craft he dreamed of mastering. 
Now, after all the work, begging, cajoling, flattery and trickery, his final thesis project at the prestigious USC film school was a rousing success. It drew the attention of studios and producers, opening doors he had been banging against for years. 
"I had a huge line of people wanting to talk to me," he told students gathered in the Norton Center for the Arts' Weisiger Theatre.  They're all producers, and I had all these great meetings afterward. I go to the meetings at these film studios, and I was like, wow, I'm an overnight success." 
Except it's never that simple.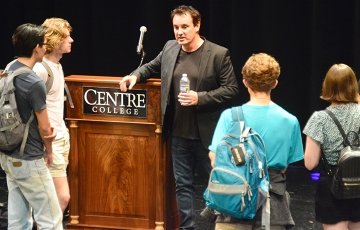 The question he kept getting was, "What do you want to do next?" A question he wasn't really prepared to answer. 
"I said, 'Well, whatever script you give me, sir, I will direct the heck out of it,'" Arnold said. "And they said, 'No, no. That's not how this works.'"
So, he got busy writing, developing ideas and crafting pitches for future projects. But six months later, when he returned to the studios, they had moved on. That window of excitement surrounding his student film had passed. 
"And I slaughtered my opportunity. I never forgot that about being prepared, being able to know when you have an opportunity to be able to capitalize on it," he said. 
Arnold shared his story of struggle and triumph — he has two primetime television series and a couple films on his resume to go with five projects currently in development — with students as part of Centre's new Career Exploration Communities, which link students with a career coach and a network of industry insiders. The aim is to help students gain an inside look at their future and get a leg up on internships, graduate school, jobs and more. 
The Columbia, Kentucky, native jumped at the chance to speak with students, considering a convocation he attended while at Centre had a profound effect on his own life path. 
The speaker that day was Isaac Tigrett '70, who founded the House of Blues and Hard Rock Café after graduating from Centre College. 
"I don't remember anything the guy said, to be honest with you," Arnold said, "but I do remember that feeling I got when I left, which was this sense of possibility that if someone could … go on to live this big life and do amazing things, maybe I could, too."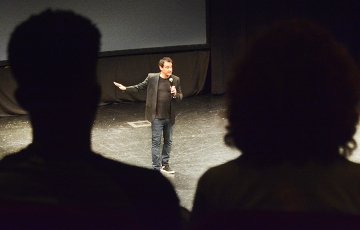 That's what drew Arnold back to Centre to share his story of struggle and success with current students. 
"The convocation I had with Isaac Tigrett literally changed my life," he said from the Weisiger Theatre stage after talking with students for nearly an hour after he concluded his talk. "It was profound and gave me the encouragement I needed to leave here, go to a city where I knew no one, and start a career. Because I saw this guy who didn't seem that different from me, and he went out and did it."
It was Tigrett's ingenuity and perseverance that struck Arnold and mirrored his own story of overcoming long odds to become a writer, director and showrunner living his Hollywood dream. 
"He built these things with no help, no money, no nothing. He went out there and met people and built things," Arnold said. "If there's one kid in the audience who thought … 'Well if that guy did it, I can do it,' that's totally worth it."
---
Interested in becoming a Colonel? Learn more at centre.edu or take a virtual tour to see what makes Centre one of the top ranked colleges in the nation.