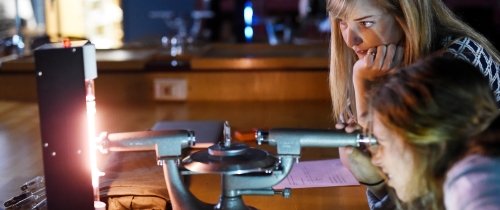 Engineering and Health & Medical Studies: Centre College announces 2 new minors
Engineering and Health & Medical Studies: Centre College announces 2 new minors
Centre College is poised to begin offering two new minors, one in Engineering and one in Health & Medical Studies, after the programs were approved by a faculty vote. Both minors will be available to students beginning in the Fall 2023 semester.
"These new minors offer students an opportunity to build on their already impressive skillsets and position our graduates to excel in their chosen fields," said Milton C. Moreland, Centre College president. "Our graduates routinely rise to the top of their profession and make tremendous contributions to our world. These new programs will only deepen the return on investment in a Centre education."
Engineering Minor
With several new course offerings in the works, the Engineering minor will be available for students in the Class of 2026 or later. It will emphasize experiential learning, community engagement and career readiness — the goals of Centre's general education curriculum.
"Engineering is a critical component to address pressing local and global challenges, such as clean energy and clean water, improving infrastructure and engineering the tools of scientific discovery," Moreland said. "As part of a liberal arts and sciences degree, graduates will learn to think critically, communicate clearly and be well positioned to solve complex scientific, technological and societal problems."
The minor in Engineering includes core requirements in engineering, physics, math and chemistry. Projected elective course offerings could include alternative energy technology, introduction to electronics and computer-aided drafting and design for the stage.
"Intro to engineering will be offered early in a student's time at Centre," said Bruce Rodenborn, professor and chair of the physics program. "This will allow students to discover an interest in the field — and the many career options that it provides — or explore how to apply an engineering design process to a variety of other pursuits."
"Centre students have gone on to graduate programs or careers in aerospace, biomedical, electrical and civil engineering, as well as architecture, software engineering or construction management," said January D. Haile, chair of the Division of Science and Mathematics. "We can't wait to see what our graduates do next."
Health & Medical Studies Minor
The Health & Medical Studies minor will be available for students in the Class of 2024 or later and will offer those interested in healthcare broad-based knowledge of how the field is affected by societal and geopolitical forces outside of STEM.
"We saw during the COVID pandemic how non-medical issues can affect healthcare and public health at a cultural and political level," Moreland said. "The program positions graduates so they may have direct and critical influence on health and medicine in the global community."
The minor in Health & Medical Studies builds on flexible core requirements that allow for focused study in applied and behavioral sciences as well as social sciences or health policy.
"The minor is very intentionally interdisciplinary with courses in economics, anthropology and philosophy included, alongside chemistry and biology," said Kerry Paumi, associate professor of chemistry. "There are multiple pathways depending on how science-focused you are. The built-in flexibility will allow students to take classes that broaden their background and support their specific healthcare interests."
The minor is designed to create a strong foundation for students pursuing postgraduate studies in physician assistant or veterinary programs, dental school, nursing, pharmacy or pursuing a career in global health, business or health management.
"We have a lot of students interested in health professions, and other students who want to explore health-related issues outside of a clinical setting," Paumi said. "This is a way we can support those students and help them learn what they are really interested in."
For more Centre News delivered directly to your inbox, sign up for our weekly newsletter.