Family ties brought Jimmy Carter to Centre College. Here's how
Family ties brought Jimmy Carter to Centre College. Here's how
Former President Jimmy Carter addressed Centre College's graduating class during commencement exercises in 1987. One alumnus remembers how that visit came to be.
The nervousness Bart Sights felt as he took his place behind the podium on the Norton Center for the Arts stage wasn't because he was about to announce the 39th President of the United States as the speaker at his commencement ceremony. He was nervous because all his classmates were watching.
For Sights, an economics major from Henderson, Kentucky, Jimmy Carter was practically family. By the time Centre College's 1987 commencement came around, he had known Carter for a decade and visited the president in the White House.
In fact, he was the reason the former president was speaking at Centre College that day.
Their connection begins with a different speaker backing out of an engagement back in 1974. Sights' father, Dale, was president of the Henderson Chamber of Commerce and suddenly in need of a new guest speaker after the scheduled speaker, a comedian named Grady Nutt, backed out at the last minute.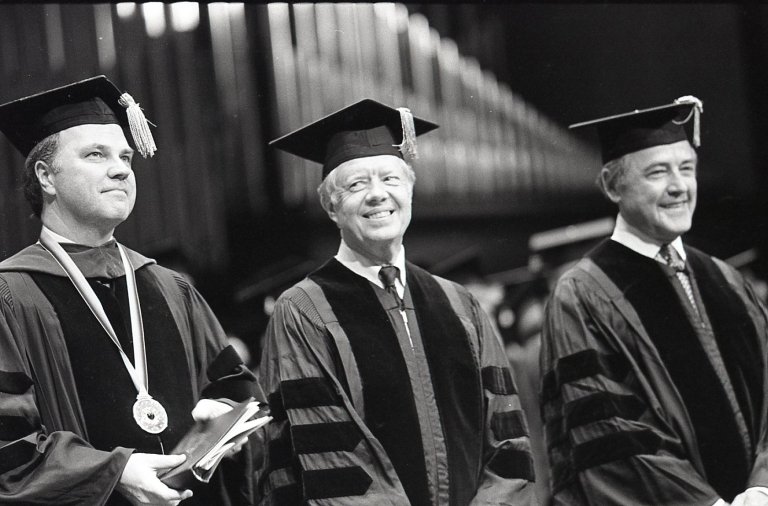 "My dad was complaining on a Sunday night that he had to find somebody," Sights recounted during a phone interview from San Francisco. "My mom was an avid Sunday New York Times reader back then, and she said, 'You should call this guy I'm reading an article about. He's governor of Georgia, and he's thinking about running for president.'
"And my dad literally picked up the phone and called, and he answered."
Carter, who had not yet officially announced his candidacy for the President of the United States, agreed to speak at the dinner on one condition.
"He said, 'Sure I'll come talk to your chamber of commerce … if you don't mind me staying at your house so I don't have to get a hotel room,'" Sights recalled.
And that's how a 10-year-old Bart Sights slept on the floor while Jimmy Carter slept in his bed.
That interaction led Carter to hire Dale Sights to lead his campaign efforts in Kentucky and work closely with the president during his time in the White House.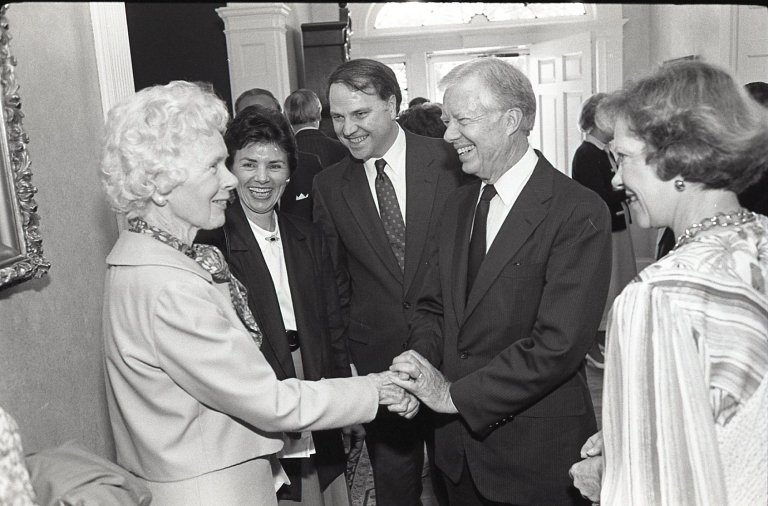 Seeking reelection in 1980, Carter returned to the Sights home. By that time, Bart was a teenager and would soon be looking for a college where he could play football — a decision that ultimately came down to Vanderbilt University and Centre College.
"He was asking me what I was going to do and what I was interested in," Sights said. "I think at that time he said, 'If I'm still alive, still around, when you graduate from college, I'll speak at your commencement.
"And it's just who he is, he keeps his word."
So, seven years later, with commencement approaching, Dale Sights called Carter up once again to tell him Bart was getting ready to graduate from Centre.
"He said, 'I'll be there.'"
And that's how a nerve-wracked econ major came to be at center stage on the day of his college graduation introducing the former President of the United States.
"I had no experience in public speaking, and I was so nervous," Sights said. "I remember I was absolutely shaking. And I was more nervous about my classmates than President Carter."
A few years ago, much of the Sights family made a trip to the Jimmy Carter Presidential Library and Museum in Atlanta so the younger generations could meet the former president and first lady. Bart was unable to attend, but his kids were among those in attendance.
"My parents took all of the grandchildren — there were probably 17 of them — and visited President Carter and Rosalynn and spent the afternoon with them," Sights said. "That was incredible."
Sights, who lives in San Francisco and serves as Vice President for Technical Innovation at Levi Strauss, says the Carters' legacy is as much a tribute to who they are as their contributions to society.
"He was always such a sweet man. And you really can't mention him without Rosalynn. She's an incredible lady," he said. "He did a lot of great things as president and then he gave the rest of his life to making the world better.
"That's the people they are."
Sights said the news that Carter was entering hospice care was tough to hear.
"We've known it was coming, but it's really hard. It's really emotional for me," he said. "He's a hero. He was a hero for me from the time I was 10 years old. I think he's been a hero for a lot of people."