Around the world and back: Vati Pham's Centre journey of growth, leadership and finding her place
Around the world and back: Vati Pham's Centre journey of growth, leadership and finding her place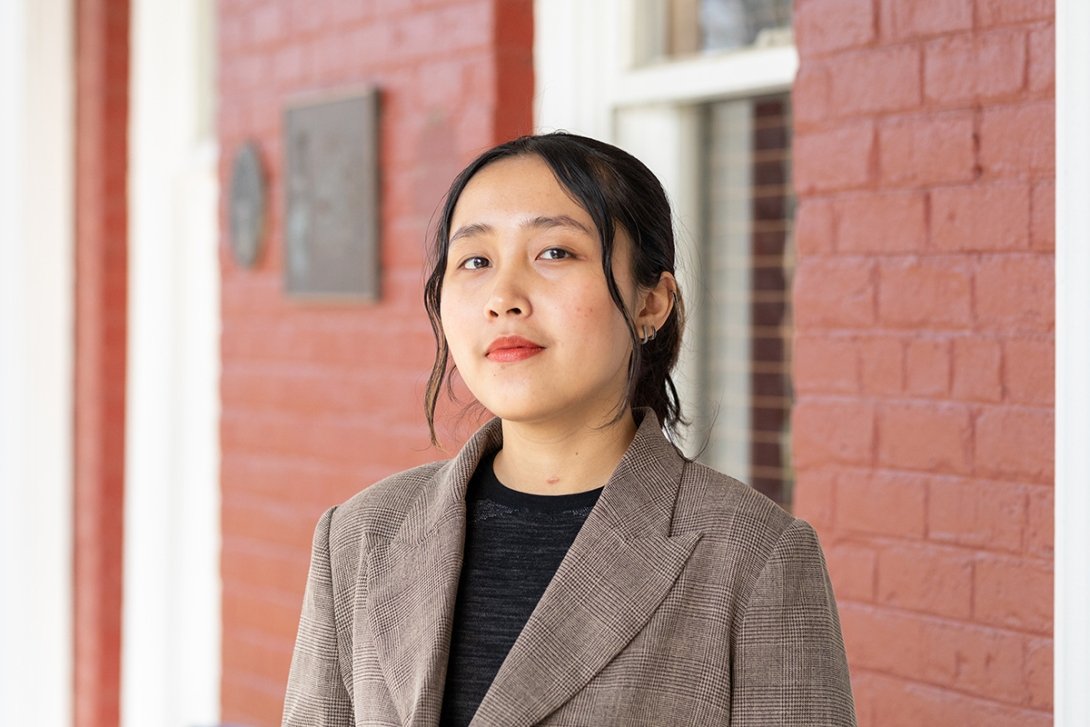 Vati Pham '23 knew she had to cast a wide net for her postgraduate opportunities. After all, that's how she found success as a student at Centre College — building connections and opening up to different possibilities on campus. 
Pham was a member of the inaugural cohort of Atkins Scholars, helped found the Vietnamese Student Association and helped establish the first Lavender Graduation for LGBTQ+ students and allies on campus. Now, she'll take a degree in data science to Mongolia as part of a Princeton-in-Asia (PiA) fellowship — the second Centre student to win the award. 
It's the latest step in a journey that saw Pham struggle to acclimate to college life in the U.S. before growing into a campus leader, working to make the Centre experience better for those who will follow in her footsteps. 
While her outcomes sparkle on a resume, Pham admitted her time at Centre was "a rollercoaster." She noted the Class of 2023 was the final college class that experienced what "pre-COVID college life" was like. She returned home for online classes — something not all international students were able to do. 
Upon her return to campus, Pham noted how she improved academically at Centre, continuing her track in the relatively new major program of data science.
"I'm very grateful for the program, because it really fused my interests in mathematics and turned it into practical tools when it comes to real-life problem solving," she said. "I also think that the data science program has provided me opportunities to learn and grow a lot. I do feel like it has provided me a skillset of how to deal with abrupt changes quickly."
Pham took another step forward her senior year after realizing she had the opportunity to leave a legacy at Centre College, and lead incoming Vietnamese students by founding the Vietnamese Student Association (VSA). She joined The Union of Vietnamese Student Associations of the Midwest to connect with similar schools in the region. More than anything, Pham said she wanted the VSA at Centre to be a place of belonging for all students. 
"That's where my passion for VSA started to develop — as you can see, we did a lot over the spring semester," Pham said. "We had two keynote speakers talking about important topics that we, as an organization, were interested in, such as mental health in the AAPI (Asian American Pacific Islander) community or talking about trans rights.
"I think that common ground of belonging is going to make it so much easier for people to open up and make real connections. If you keep on hanging around people with the same perspectives as you, there's no other real learning curve here. We were very proud as a (VSA) team to make that happen at Centre."
Those real connections built at Centre were evident in the PiA interview process when she spoke with a Centre alum involved with PiA — and now she'll continue to build bridges with her data science major and put it to use with AND Global, a finance-technology company in Ulaanbaatar, Mongolia.
PiA, formed in 1898, places fellows in immersive work partnerships across the Asian continent. Pham is from Vietnam and said that she was eager to return to the region — an opportunity provided by PiA.
"The hands-on nature of the PiA experience gives Fellows intimate knowledge of the organization in which they are placed and, importantly, the community the organization is serving," said Robert Schalkoff, director of Centre's Office of Fellowships.
"Coming to America, I had a purpose to learn, and I felt once I gathered enough skills, I wondered how I would fit myself back into the cultural context of Asia and how my American identity affected me as a person," Pham said. "Princeton in Asia offers me that opportunity, coming from a Western perspective back to an Eastern perspective in Asia, especially in the work environment. That's what I appreciate in PiA."
That's where Pham's experience on both continents — as well as traveling abroad while at Centre — will come in handy. Pham noted the PiA mission to build bridges between the United States and Asia was one that intrigued her in the application process.
"Centre College really prepared me to deal with any hardships, because being in America, I have developed a whole new life compared to the life I had in Vietnam," she said. "My parents don't speak English. They don't understand what I'm doing, my goals. Ever since I stepped into [Centre], I've been much more independent and much more strong-willed in knowing what I want and who I am."
Students interested in exploring the world of fellowships are encouraged to contact Robert Schalkoff at fellowships@centre.edu to start a conversation about their goals and passions. The office also shares information via email about opportunities that are specific to class cohorts from first-years to seniors.