Building the perfect bracket: How data analytics is helping Centre students tackle March Madness
Building the perfect bracket: How data analytics is helping Centre students tackle March Madness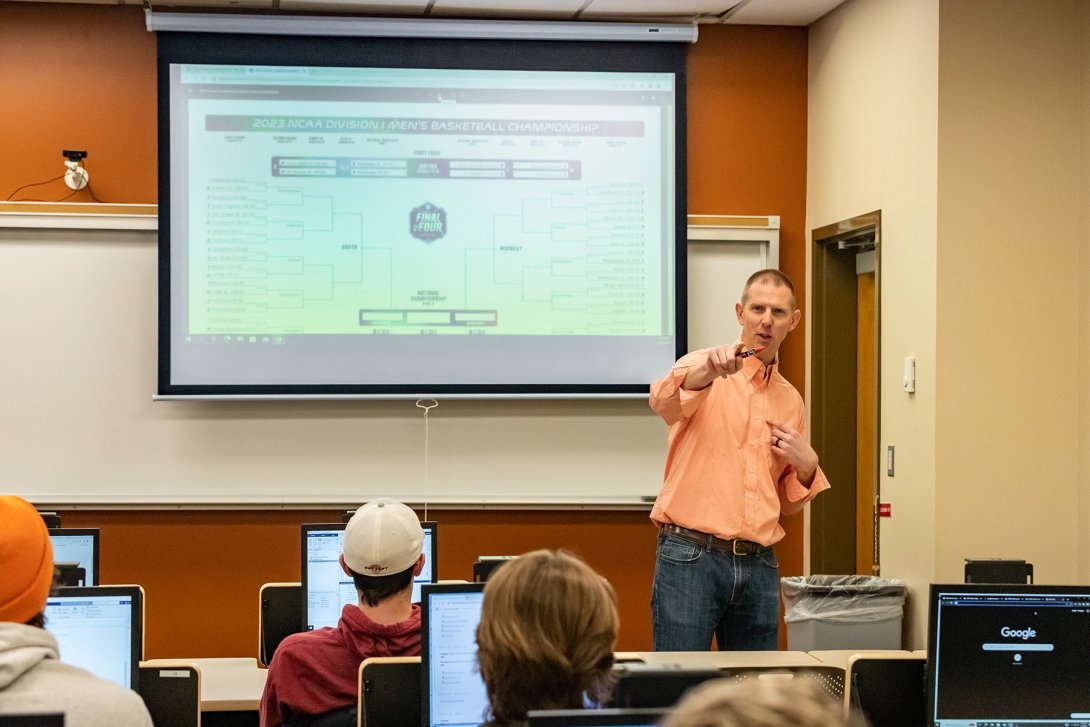 The NCAA Tournament has been the focus for Professor of Mathematics and Data Science Jeff Heath and his classes of Sports Analytics. See how they're using numbers to create educated predictions in the tournament. 
A massive experiment has tipped off across the country, and Centre College students are working on a solution.
The NCAA Tournament has been the focus for Professor of Mathematics and Data Science Jeff Heath and his classes of Sports Analytics. Students in the classes created their own set of parameters based on historical data and this season's results to determine odds for each team to advance through the tournament.
"What we want to do is come up with the best prediction based on the data at hand," Heath said. "We're using this data to show the likelihood of any team advancing to any given round."
The highest odds went to top overall seed Alabama, at 15.9 percent. The local favorite Kentucky, a 6-seed, has a 0.5 percent chance to win it all, according to the class calculations.
"To be honest with you, this is the kind of stuff that I'd like to do for my career," said Louisville native Ben Marrillia. "I'm thrilled that I'm able to be in the Sports Analytics class. This kind of stuff is what I live for, it's just so cool. I love watching sports."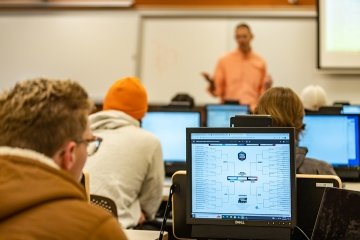 Marrillia and his fellow first-year students in the class are receiving real-world training on coding systems and analyzing large sets of data. The class used MATLAB to run its simulations and help build visuals to showcase the odds of each matchup.
That hands-on work applies to work beyond just sports.
"I'm being exposed to a lot more code in this class," Marrillia said. "Last semester I took a python class for the first time in my life, that was the first coding experience I ever had. Now I'm starting to learn the other languages like R and MATLAB, specifically. That is making me more versatile, I'm able to stay more familiar with the coding process and now we're turning that into making models we can use in real life."
Nina McMurtrey is using data from the class as a student-athlete at Centre. She's on the golf team and said the data she's seen rings true on the golf course as well.
"It has been super interesting to see how things correlate, I've played sports my whole life and we've done a lot of examples regarding golf," she said. "We did research on how your putting is different when you're putting for birdies and putting for par. You're more aggressive on par putts. Seeing that in numbers was just like, 'Wow that makes sense to me.'"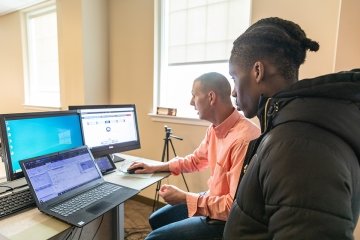 The class also has a fun incentive for creating a bracket that beats the class odds: bonus points on the exam. Marrillia, who is more of a football fan, said he's thankful to have data to help him make decisions on his bracket.
"Looking at historical trends is useful," he said. "Having these models allows me to at least have a general idea who the best teams are, even if I haven't committed that much time to it. It makes the world of college basketball more accessible, and that applies to other areas."
Will the class predict the perfect bracket?
Probably not.
"Your odds of selecting the perfect bracket is something like winning the lottery two times in a row," Heath said. "If everybody in the world had one billion brackets, and everyone has different brackets, that's not even all the possible brackets. It's a big number to wrap your head around."