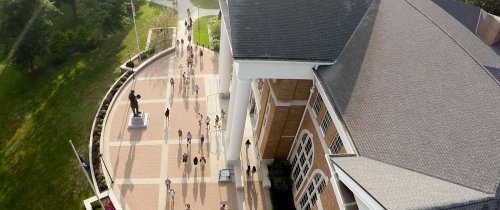 Centre College announces Chad Spencer as new vice president for enrollment management
Centre College announces Chad Spencer as new vice president for enrollment management
New position will oversee Admission and Financial Aid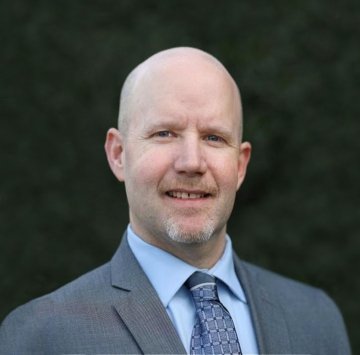 Centre College has appointed Chad Spencer to the newly created role of vice president for enrollment management, after an extensive national search. Spencer brings 25 years of experience in admission and financial aid, including 17 years at Davidson College, where he served most recently as Senior Associate Dean of Admission and Financial Aid and Director of Financial Aid. His appointment at Centre is effective June 26, 2023.
"Centre College has great momentum, and we look forward to adding Chad's talents for reaching outstanding students who will benefit from and contribute to the College's distinctive education," said Centre President Milton C. Moreland. "His strategic approach to enrollment will build on our efforts to expand educational access and inclusive excellence and help our graduates achieve their exceptional potential."
At Davidson, Spencer managed a multi-million-dollar financial aid budget, as well as the implementation of financial aid initiatives to remove student loans from aid awards and replace them with grant aid. Under his leadership, Davidson grew the population of Pell-eligible students by 142 percent over the last 15 years. Spencer's efforts helped to increase applications by 75 percent and first-year student enrollment yield from 39 percent to 49 percent. He worked with both QuestBridge and POSSE Scholars and served as the national representative to the College Board Financial Aid Assembly for the Southern Region.
"Centre has a compelling story to tell prospective students and their families about the return on investment of a liberal arts and sciences education," said Spencer. "I look forward to working with the skilled Admission and Financial Aid teams, as well as with faculty and staff across campus, in a student-centered and principled admissions process that builds on Centre's intellectual diversity."
As the first-ever vice president for enrollment management, Spencer will also be responsible for creating, leading and managing a strategic enrollment program that incorporates best practices and data analytics in recruitment, admissions, financial aid and retention. He will lead and manage the enrollment division and engage the entire Centre community to further increase applications, improve yield, and, in close consultation with the president and the dean of the College, ensure enrollment grows in alignment with Centre's strategic plan and broader institutional goals.
"Chad brings a deep knowledge of and the ability to articulate the merits of the liberal arts, as well as the ability to connect with people from all varieties of backgrounds and experiences," said Andrea Abrams, vice president for Diversity, Equity and Inclusion and a member of the search committee. "In addition, he has a strong understanding of the use of market and demographic data to support continued enrollment successes. I look forward to working with him."
Spencer holds a B.A. and MBA from Lenoir-Rhyne University. He and his wife Melanie, also a graduate of Lenoir-Rhyne University, and a practicing registered nurse, have two sons. They will be relocating to the Danville area this summer.