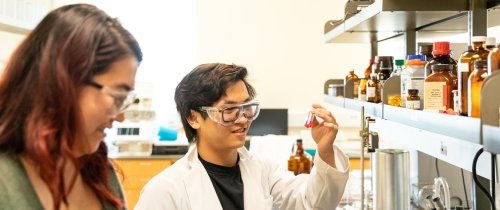 Centre faculty, student collaborative research featured in chemistry publication
Centre faculty, student collaborative research featured in chemistry publication
Opportunities for collaborative research provided at Centre College have helped Visiting Assistant Professor of Chemistry Vanessa Song '14 and student Hoang Le '23 secure publication in the Journal of Materials Chemistry C.
Through Song's mentorship, Le worked with the College's Nuclear Magnetic Resonance (NMR) to help understand trends in photostability of organic semiconducting materials–materials that could be used for sustainability, like solar panels, OLED electronic screens, and even in medical applications.
"The work that is done in these organic semiconductor or transistors is probably one of the 'hottest topics' nowadays that bridge chemistry, physics and also engineering," Song said.  "Hoang took his knowledge in chemistry and physics and married them well in this project."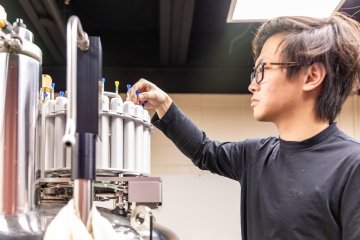 Le is a chemistry and physics major who started in this project with computations in the spring of 2021. The publication, titled "Unravelling the major factors in photo-oxidative stability of anthradithiophene derivatives," was led by University of Kentucky (UK) Professors Karl Thorley and John Anthony. Le provided computational work for the project initially, studying properties of materials that could be used in those practical applications mentioned above.
As Song became more confident in Le's work, he earned more responsibility. He started working regularly with photostability and the NMR machine–something that would take much more time at UK.
"We have facilities where it's a lot easier for students to access and learn in general chemistry and organic chemistry compared to a large university, like UK," Song said. "I asked if we could help with their research, where we could be just as productive, if not more productive than their graduate students. My husband Karl Thorley is a research assistant at UK, and we formed a collaboration."
After Le learned the equipment and became more comfortable in the lab, he became instrumental in the research process, exposing different samples to various lights and wavelengths and noting the qualities: Do they break down, what they break down into, and if the process is reversible. Because of Le's access to equipment, he significantly quickened the process for the publication.
"Over time, Hoang has developed how to think more practically and more from a common-sense standpoint, which goes very far in a research lab," Song said. "We developed from being hands-on to, now, he kind of runs the show. From a research adviser standpoint, that's what you want."
Song came to Centre from China, and said she knows first-hand how difficult it can be for international students to earn funded research opportunities. Le, from Vietnam, noted his appreciation for Song's tutelage.
"I've learned a lot from Dr. Song and Dr. Thorley," Le said. "Through this research, I've learned about many important techniques in organic synthesis and in physical chemistry. Dr. Song has also opened the opportunity for me to have access to a wide range of instruments. I really enjoyed my research, and I'm truly grateful for it.
"The close relationship between students and professors at Centre was helpful, as well," he continued. "I have received help from other chemistry professors while doing research. I couldn't get this far without their help."