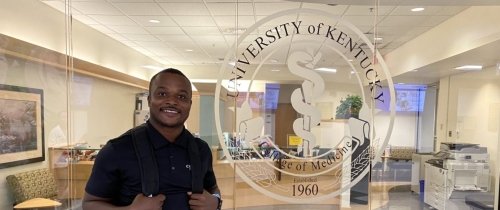 Centre Football player makes impact through concussion research
Centre Football player makes impact through concussion research
As a defensive back for Centre College's football team, Quinton Moss isn't just making an impact on the field. The senior student-athlete has recently tackled the study of concussions in the research lab—something he hopes will make an impact in a different way.
Moss interned with Centre alumna Dr. Amanda Glueck '10 at the University of Kentucky's College of Medicine for his summer research project, looking into the effects of traumatic brain injuries (TBIs) and how virtual reality video games can potentially aid recovery after a concussion.
A match made through Centre's extensive alumni network, Melissa Burns-Cusato, Stodghill Professor of Behavioral Neuroscience, said that she has followed Glueck's career after graduation and collaborated on work as well. When Moss came to Burns-Cusato with an interest in concussion research, she mentioned Glueck.
"Concussion research is something I'm interested in as a football player, because TBIs have long been a danger to players involved in the sport," Moss said. "Growing up and seeing more and more attention drawn to the seriousness of concussions really sparked my interest.
"Future research in this area will not only affect how players are treated for concussions but how the game is played and what rules and technology are put in place to maximize player safety."
Burns-Cusato said that real-world experience like what Moss received will only boost his post-graduate opportunities.
"Quinton's research experience will fortify general skills important in any career, for example, critical thinking and communication," she said. "He will also gain knowledge about traumatic brain injury and recovery that will be helpful in a medical career.
"Involvement in Dr. Glueck's research also provides Quinton with a very interesting talking point during post-grad interviews," she continued. "Most people have been affected by concussion, either directly or indirectly, and will be interested in efforts to alleviate the deleterious effects. The involvement of virtual reality video games makes the research particularly unique and interesting."
Moss's summer research exemplifies a key part of the Centre Experience: utilizing a robust alumni and internship network, students can secure research opportunities in preparation for post-graduate pursuits.
"This experience helped me get research experience that I plan on expanding on as I go deeper into the medical field," Moss said. "I've met a lot of great people and have gotten a chance to experience the academic side of healthcare. Dr. Glueck taught and refined skills that will be useful in medical school."
Finding the right research opportunity may seem like a challenge, but Burns-Cusato said Moss's "genuine interest" made his research a natural fit.
"Students that have a genuine interest in the research topic tend to get much more out of the experience," she said. "As a football player, Quinton has likely witnessed concussions when they occur, the immediate symptoms and long-term consequences. His simultaneous love for the game and compassion for his fellow players motivates him to discover strategies to mitigate the negative effects of concussion.
"The involvement of virtual reality video games is a bonus," she concluded. "We already know video games are fun. Wouldn't it be great if they are also capable of healing an injured brain?"
Moss and Glueck's work, "Exploring Virtual Reality as a Neurorehabilitation Aid: A systematic Review," will be presented at the University of Kentucky's 2022 Clinical Translational Symposium on Sept. 30.