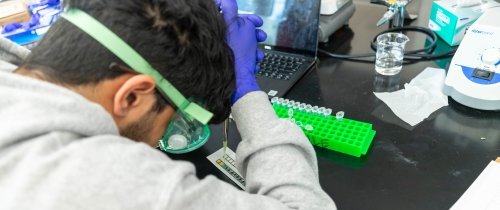 Centre joins HHMI Inclusive Excellence Learning Community
Centre joins HHMI Inclusive Excellence Learning Community
Underscoring its commitment to advance diversity, equity and inclusion, Centre College has been named a member of the Howard Hughes Medical Institute (HHMI) Inclusive Excellence 3 learning community. The College will be awarded funds over the next six years to promote inclusive teaching so that all students can succeed and feel a sense of belonging in STEM.
"HHMI encourages cooperation and consensus among diverse institutions with this program," Vice President and Dean Ellen Goldey said. "As a result, colleges and universities of all types are working together toward a shared goal of creating more inclusive teaching and learning for all students."
The multi-institution "Learning Community Cluster" (LCC) will be focused on promoting and evaluating effective and inclusive teaching. The institutions will be tasked with sharing leadership responsibility and decision-making responsibilities on the use of HHMI-allocated funds – a unique challenge that College leadership has taken head-on.
"I've been impressed with the commitment of our STEM faculty to adapt their teaching practices to foster belonging in their programs," President Milton Moreland said. "I'm delighted but not surprised that Centre's team is leading this initiative."
Centre will host the first in-person meeting in summer 2023. Centre Director of Research Katherine Andrews has been elected by the LCC as its co-chair.
"I am honored to serve as co-chair of this inspiring group of scientists and educators who are committed to making a real difference to students by finding new ways to understand, promote and reward inclusive teaching," Andrews said. "HHMI supported the work of this large collaborative by sharing great consensus-building practices, which our Centre team will use on campus, too.  The work to reach this point has been challenging but rewarding, and now we're looking forward to launching this important series of projects."
The funding will support six interrelated initiatives to promote inclusive teaching and improve students' sense of belonging in STEM.  The LLC will share data across the many institutions and use the evidence to guide next steps. One of the projects will also interrogate existing rewards and recognition structures to identify changes that will incentivize faculty adoption of inclusive practices.
"I've been a champion of this work for several years, and I've changed my own teaching to make my classroom and lab more inclusive," said Jennifer Muzyka, Stodghill Professor of Chemistry and Centre's Program Director and Lead Applicant in the LCC. "However, I had the security of tenure when I began this work. It is scary to step beyond what you are used to doing and adopt different teaching strategies, so we need to be sure our institutions' policies and structures support and encourage needed change."
Through the collaboration with other colleges and universities, the HHMI grant will provide Centre with the resources to impact Centre students but also promote belonging and success of students in STEM throughout the country.
"Sustaining advances in diversity and inclusion requires a scientific culture that is centered on equity," said Blanton Tolbert, HHMI's vice president of science leadership and culture. "In science education, increasing the number of individuals from underrepresented backgrounds must go hand in hand with creating inclusive learning environments in which everyone can thrive."