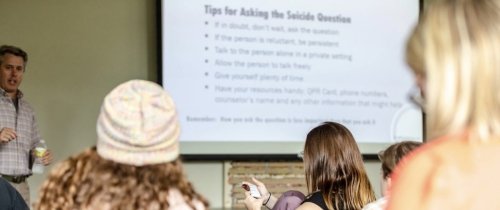 Centre secures funds to support student well-being through Garrett Lee Smith Suicide Prevention Grant
Centre secures funds to support student well-being through Garrett Lee Smith Suicide Prevention Grant
September is National Suicide Prevention Awareness Month, and Centre College's offices that support student well-being will see a substantial boost for its awareness and prevention campaigns thanks in part to funding from the Garrett Lee Smith Suicide Prevention Grant.
The grant allocates $300,000 for Centre over a three-year period, and a portion of the funds will go toward the newly created positions of Director of Health Promotion and Assistant Director of Health Promotions. Students will also be trained as peer health educators, which aids the implementation of educational strategies required by the grant.
Centre Vice President for Student Life Barbara LoMonaco said that the grant will bolster Centre's commitment to student health.
"This grant has the potential to make a real difference for Centre students," LoMonaco said. "Not only does it fund programming for suicide prevention, substance misuse, mental health promotion and sexual assault prevention, it also gives us more boots on the ground to help our students.
"Students face more stressors than ever at this time," she continued. "Bolstering our programming, as well as adding a Director and Assistant Director of Health Promotion and a new full-time counselor directly contributes to student success in and outside the classroom."
Ann Goodwin, associate dean of student well-being and director of counseling, noted the grant's funding will build the College's student health resources.
"This grant adds needed resources to help build an infrastructure for prevention efforts," she explained. "In the past, we have tried our best to provide suicide prevention and other wellness programming, but due to students needing to be seen for counseling, we did not have the staffing or resources to provide the level of prevention efforts that are needed."
Along with the two new positions, Goodwin will also assist with the health promotion effort. Additionally, Ann Young's role has shifted to Assistant Dean of Student Well-Being—a substantial increase in the amount of staff allocated to this work, Goodwin said.
But it's not just Centre Student Life offices that will be involved in the work: Goodwin noted that it will take the entire Centre community for the grant to be effective.
"This grant creates a layer of accountability by having the funding dependent on hitting specific goals," Goodwin said. "And to hit these goals, we will need the commitment of the entire campus, not just the staff in Student Health and Counseling and the newly developed Health Promotion. I think our students, faculty and staff are ready to commit to this work and this grant will provide opportunities for us to engage with that commitment."
Student interest in mental health and prevention work has increased, Goodwin added, exemplified through the student peer health educators that will be trained, in part, thanks to the grant.
"For prevention work to be effective, we will need to further engage the entire campus community," she said. "Students are interested in mental health and in prevention work, and the peer health educators will be one opportunity for students to be trained and to work closely with the Health Promotion office to increase their peers' understanding of and skills around well-being.
"I think this will be a great opportunity not just for the students who become peer health educators but also for those students who are more responsive to prevention efforts by their peers," Goodwin concluded.
For those interested in signing up for the Question, Persuade, Refer suicide prevention training, please contact Michael Spears in Centre Counseling at michael.spears@centre.edu.