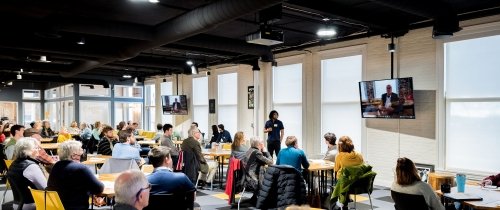 Centre students take a seat at the table for Kentucky's early childhood education debate
Centre students take a seat at the table for Kentucky's early childhood education debate
Centre College students are leading the charge to find solutions to an important challenge facing Kentucky: access to early childhood education.
Students in Associate Professor of Economics and Business Patten Mahler's Economics of Early Childhood Education course engaged with state and community leaders, presenting their research and leading discussions on sustainable models for universal access to early childhood education (ECE) in Kentucky.
Mahler's course provided students the opportunity for practical application of economics and finance theories learned in the classroom. Students visited early childhood education centers in the area and traveled to Frankfort to meet with the Kentucky Governor's Office of Early Childhood.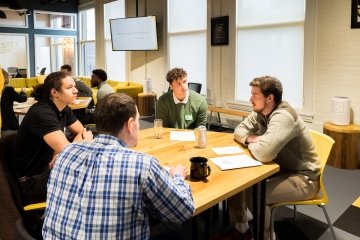 Drake Kawa '23 reflected on the course and said engaging in this problem within the community was important to them.
"The more we can all come together and collectively talk about this issue, I think the more we'll be able to understand that this is a problem we have to figure out," Kawa said. "It'll have an effect on all of us."
Jess Miller '24 admitted he enrolled in the CentreTerm course for his major —economics and finance — but wasn't aware of the challenges he'd find in the course.
"I had no idea that the cost of quality care was so high, parents were suffering and the community as well," he said. "The ability to interact with these kids has just brought the problem to life. That's what means the most to me."
State Rep. Josie Raymond, of Louisville, was one of a handful of officials and advocates taking part in the event. She was joined by Amy Neal, executive director of the Kentucky Governor's Office of Early Childhood; Terry Tolan, consultant for the Center for Nonprofit Excellence in Louisville; and Sarah Vanover, policy and research director for Kentucky Youth Advocates.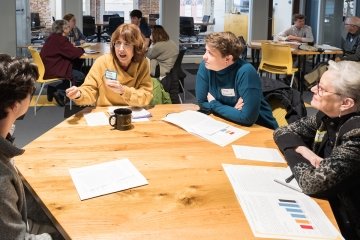 "This is an incredibly helpful moment, to see young people — the best and the brightest in Kentucky at the early stages of their careers — saying that universal pre-K is not only something that needs investment in Kentucky but needs analysis so we can be leaders in the country in providing high-quality pre-K to the most families," said Raymond.
Students provided research that shows increased investment in high-quality education and care for children aged 0-5 is associated with immediate short-term benefits, like increased workforce participation and lower crime rates, as well as a more skilled generation and fewer social costs in the long term.
Centre Term's unique immersive nature saw students making the leap from novices in the field to presenting a detailed plans for state officials and education advocates in just three weeks.
"They jumped in headfirst, and I think they did an amazing job with this information," Mahler said. "We went from very little understanding of the problem to what you saw today."