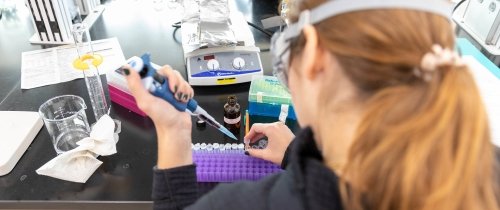 Daniel Scott secures grant funding to enhance research experiences at Centre
Daniel Scott secures grant funding to enhance research experiences at Centre
Course-based undergraduate research experiences (CUREs) are set to receive a boost at Centre College and across the country from the National Science Foundation.
Daniel Scott, associate professor of chemistry at Centre, has secured nearly $300,000 in grant funding to continue his development of CUREs at the College. His classes, intro to inorganic/analytical chemistry (CHE 250) and instrumental analysis (CHE 350) are two examples of where the CUREs he has developed at Centre are being utilized.
"The ultimate goal is to lay the foundation to increase the implementation of CUREs across the country," Scott said. "CUREs can be daunting to try the first time around, so we hope to develop a set of materials and ideas that will lead to the successful experiences."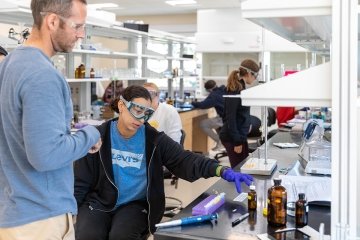 "Research experiences are well documented as ways to increase persistence and success in the sciences," he continued, "so we want to broaden the ability to participate in these research experiences. Ultimately, we hope to give all students in the classes a chance to participate in novel research experiences and the opportunity to publish results in academic journals."
Scott collaborated with three other analytical chemists and a chemical education specialist to develop the CUREs. His classes will use paper-based microfluidics as a platform for these research experiences. Paper-based microfluidics are easily modified, easy to ship and are an efficient use of time and materials.
"The platforms are developed to analyze volumes on a very small scale, so they generate much less waste, require fewer materials and drastically reduce the time it takes to analyze substances," Scott explained. "We can get through experiments much faster because the results happen so much quicker on the scale we are running the reactions."
Scott said that students in his introduction to inorganic chemistry class (CHE 250) currently have the chance to participate in these enhanced research experiences—opportunities that boost success and representation in the sciences.
"Traditional mentored research experiences are limited by the number of available spots and sometimes students' awareness that the experiences even exist," Scott concluded. "The CURE experiences will hopefully bring to light these other opportunities for mentored research and also give the students experiences and confidence going into these new situations."