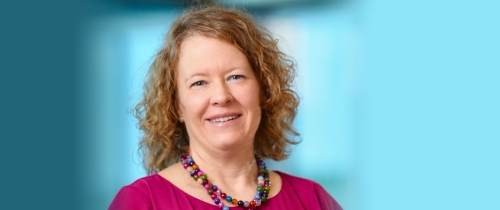 Dr. Robin Cline Vanderpool '97 earns award for work in health misinformation prevention on social media
Dr. Robin Cline Vanderpool '97 earns award for work in health misinformation prevention on social media
The National Cancer Institute (NCI) presented Dr. Robin Cline Vanderpool '97 a Director's Award of Merit for her work in advancing research in social media and health misinformation fields.
Vanderpool works at the National Cancer Institute and worked with six other public health professionals on a Social Media and Health Misinformation Coalition. The award was given for "providing outreach and education to varied audiences affected by this public health issue" in December 2021.
"The communication landscape has been transformed by the rise of social media over the past two decades, posing new research questions for cancer communication," Vanderpool said. "In particular, there is recognition that health misinformation on social media can have deleterious effects, including perpetuation of risky behavior (e.g., tobacco use), undermining important benefits of cancer-relevant health behaviors (e.g., vaccination), and sowing distrust in science and public health efforts."
The COVID-19 pandemic only heightened this distrust, Vanderpool said, increasing the importance of the coalition's research. The team convened expert working groups, contributed to peer-reviewed literature, developed NCI funding opportunities, presented their expertise at national conferences and federal interagency meetings, and dealt with press opportunities.
"Researchers, clinicians and public health professionals need to go beyond academic publications and conference presentations to reach the public with quality, evidence-based health information," Vanderpool said. "Examples include working with journalists to fact-check stories, publishing blogs and podcasts, using their own (or institutional) social media accounts to post accurate information, and working with trusted community partners such as faith-based organizations, schools and local businesses, and social service agencies to disseminate health information to broader audiences."
Their work was recognized by the U.S. Office of the Surgeon General, who asked members of the team to inform an OSG health misinformation advisory, released in the summer of 2021.
Dr. William Klein, Associate Director of the Behavioral Research Program (BRP) within the NCI's Division of Cancer Prevention and Control, nominated the coalition for the award in the Population Science category.
"The social media and health misinformation team in BRP has been an advocate for developing and disseminating research opportunities, findings and best practices," Vanderpool said. "Team members have made tremendous strides in advancing the field of health misinformation, while ensuring that dissemination efforts extend beyond conventional academia and research platforms and reach intended audiences for future change."
Vanderpool said misinformation is something future medical students should expect to see now, but they can be a part of the change and help correct the misinformation.
"I would first tell students interested in the medical field that health misinformation is now a fact of life and that they will encounter it in their daily interactions with patients," she said. "However, they have the unique opportunity—due to their personal, trusted relationships with patients and families—to identify where the misinformation originated and investigate why the patient might believe it and, in turn, correct or debunk the misinformation and direct the patients to credible, trusted sources of health information."