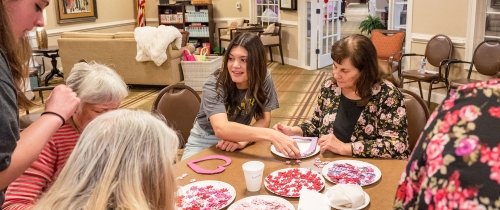 Future leaders put their skills to the test in CentreTerm course
Future leaders put their skills to the test in CentreTerm course
The Centre experience is often defined by its culture of service and leadership—and through Professor of Education Sarah Murray's recent CentreTerm course, those distinctive elements came together to provide an ideal learning opportunity for students both in the classroom and throughout the community. 
Students in "Leadership: An Act of Service" were given opportunities to serve in the local community and, through that service, develop their own leadership style in the process.
Murray felt it was important to offer the course so students could have a platform to think critically about leadership – and what it means to them. Over the course of CentreTerm, students heard from community leaders like Danville mayor J. H. Adkins, Centre College Vice President of Diversity Andrea Abrams, and religious and business leaders.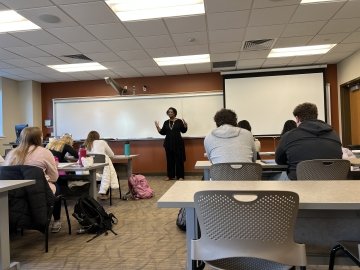 "I try to emphasize the importance of being a servant leader," Murray said. "We're examining several different leadership styles so that students can develop their own as reflected in their final projects."
Although the class is an entry-level education class, Murray said the makeup of the class has all grade levels represented. She said students' primary goal was to develop their own leadership style – servant leadership, as Murray mentioned, is a style focused more on individual interactions and putting the needs of others first.
Murray built a list of local businesses interested in student volunteers, and students were able to select where they'd like to spend time. The class required a minimum of 15 hours of volunteer time, but some students went above and beyond that time. Students volunteered at Danville Families First, The Gladys Project, Morning Pointe Senior Living Center, CentreWorks and Bluebird Market. Through these connections, Murray hopes students will continue to serve through their time at Centre – and build their idea of what a leader is in the process. 
Nicole Walton, Life Enrichment Director at Morning Pointe, said that students volunteering at the senior living center went above and beyond a class requirement for service hours.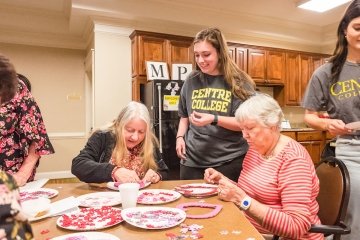 "They did such a great job, the residents loved them," Walton said. "They weren't just here, you know? You could tell they really enjoyed being here and put their heart and soul into it. They were prepared for those different activities, and they did it with excellence."
Walton said the students decorated cookies with residents, played bingo, provided manicures and massages, and shared personal stories about time spent studying abroad or in their hometown.
First year Ashley Higdon, a Versailles, Kentucky, native, volunteered at Morning Pointe and said the class was a great opportunity to learn more about Danville.  
"I wanted to take this class to gain a better understanding on how to better serve my community," Higdon said. "Servant leadership was one of the biggest concepts taught in this class. Morning Pointe allowed me to explore more about being a servant leader, because I was able to help with the residents' daily lives. Service is very uplifting and important to me, as I have an opportunity to be involved with and make a positive impact on my community. Even one hour can prove to make a massive difference in the lives of those you serve."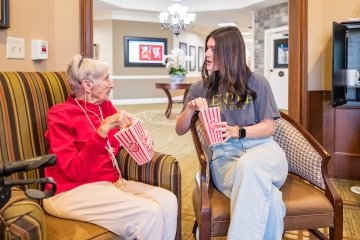 That time spent with residents was impactful, Walton noted. She added that service in the community has provided opportunity beyond students' four years at Centre.
"I have seen volunteers come from Centre who have come back as employees," she said. "After volunteering, some realize they want to go into nursing. I've also heard students say that they know that they want to go into geriatrics (after volunteering). To work one-on-one with them and see that it's not all about a hospital setting. They get to see more of that fun side of things as volunteers."