'I have learned and gained so much': Centre salutes student achievement as graduation day nears
'I have learned and gained so much': Centre salutes student achievement as graduation day nears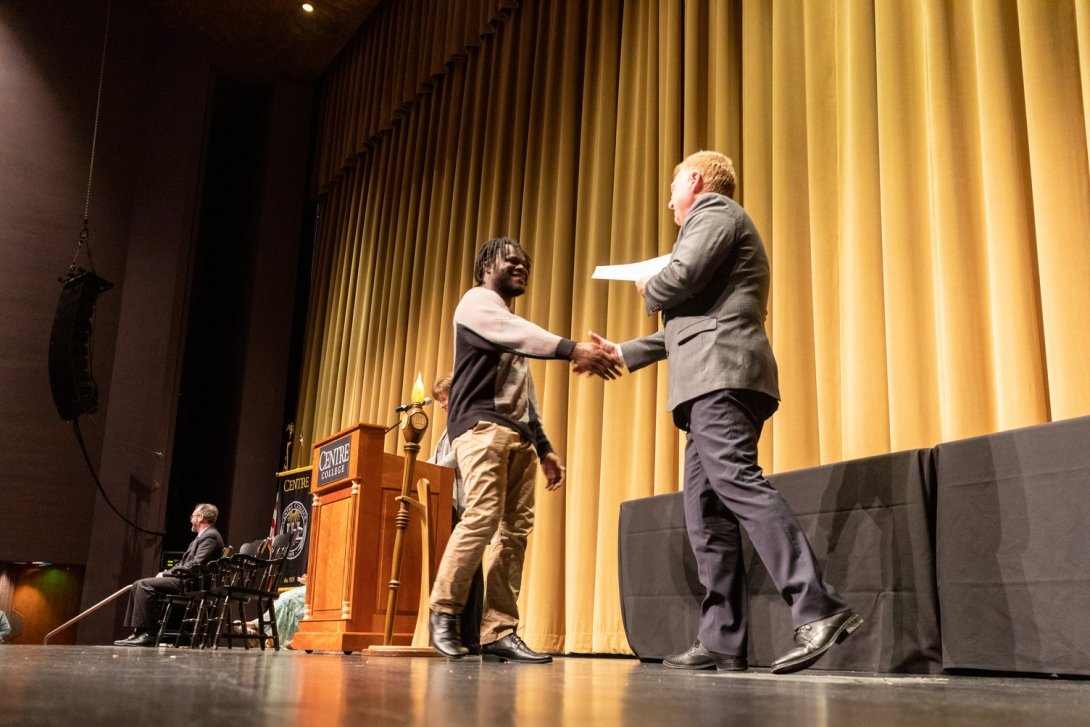 Centre College's annual celebration of student achievements was held on Tuesday, May 2, in Newlin Hall at the Norton Center for the Arts. The Honors Convocation featured addresses by senior keynote speakers, Weston Brown and Melissa Perello, who were selected by the graduating class of 2023.
Brown, a Kansas City, Missouri, native, came to Centre on a James Graham Brown Fellowship. As a philosophy and history double major, he has held positions in student organizations such as the Student Government Association, Student Judiciary, the John Marshall Harlan pre-Law Society, Beta Theta Pi and Phi Beta Kappa. After graduation, Brown plans to attend Columbia Law School in New York City pursuing a J.D.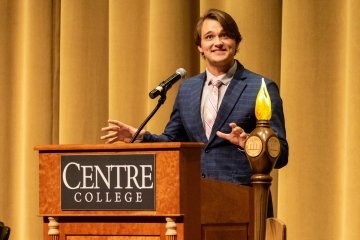 In his remarks, Brown spoke about how the simple act of talking has helped him immensely during his time at Centre.
"In my time as a Colonel, I have talked to some of the most incredible people I will ever have the pleasure of meeting," Brown said. "I've asked questions during lectures that taught me more than I thought possible. I've had conversations that have impacted my personhood on a fundamental level.
"By speaking with with this amazing community of intelligent, kind, warm individuals, I have learned and gained so much."
Read Brown's full address here:
Perello is a Behavioral Neuroscience major and Bonner Scholar from Louisville. She volunteers at the After School Program as a parent contact and with Centro Latino, where she works with the local Latino community. She is the president of the BNS/PSY club and is the "senior-at-large" for the Pre-Health Society. After graduation, Perello plans to take a gap year in her hometown to work as a CNA  and case manager for a pharmaceutical company.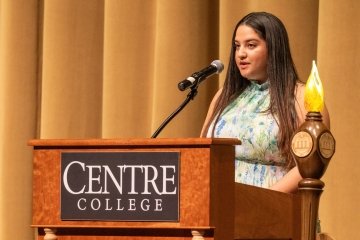 Perello spoke about labels — how she labeled herself entering college, and how those labels impacted her and changed throughout her academic career.
"The intricacies of life and growth cannot be captured by a single label, or even a few," Perello said. "Challenges are to be explored, not avoided. That resistance is not a cue to give up but a cue to grow. All of us here have been shaped by, and grown from the challenges we face, the responsibilities we accept, and the experiences we carry.
"Whether your journey is to be an author, a coordinator, a midwife, a singer, an educator, a computation neuroscientist, a lawyer or a physician — whatever it may be, persist and persist and persist."
Read Perello's full address here:
In addition to remarks from the speakers, the program also included the announcement of major campus prizes, as well as the recipients of program prizes and inductees to academic honorary societies.
See the complete list of convocation honors here:
---