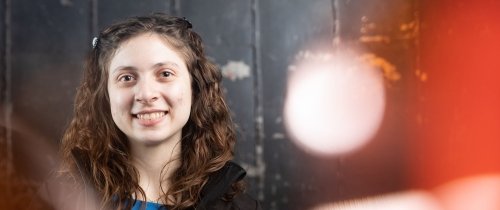 John C. Young scholar Veronica Valente continues work in language revitalization
John C. Young scholar Veronica Valente continues work in language revitalization
This article is part of a series featuring Centre College's 2022 John C. Young (JCY) Scholars. Centre's JCY program, now in its 32nd year, is designed to serve highly motivated seniors, allowing them to engage in independent study, research or artistic work in their major discipline or in an interdisciplinary area of their choosing. View the complete listing of JCY Scholar projects here.
For four years, Veronica Valente '22 worked and studied language revitalization.
It was because of her four years of study at Centre College that led her to her John C. Young research title, "Storytelling as Language Activism." Valente, a Class of 2022 Valedictorian, had spent time in the United States and abroad studying language and chose a similar topic in 2020 as an independent study.
"From my last independent research study, 'The Effects of School Closures on English Language Learners (ELLs) in Las Vegas,' I learned how to overcome many of the technical difficulties associated with research," Valente said. "While my current JCY project presented many similar challenges, with the support of my incredible advisor Dr. Sarah Murray, I was able to work through them. It has also been incredible to explore and apply Indigenous ways of knowledge production to my work and learn to better center Indigenous voices in research."
Valente said that work and more in her four-year Centre career greatly influenced her JCY research, which tells the stories of activists from four different language backgrounds (Quechua Chanca, Yucatecan Maya, Hopi, and Paiute).
"I did not so much choose this topic as it was the natural culmination of four years of study and work in the field of language revitalization," Valente said. "It emerged naturally from the connections I made both in the U.S. and abroad, and it was built on a foundation of collaborative and independent learning that I engaged in during my four years at Centre."
Valente's work explored what it means to advocate for Indigenous languages that are being both exposed and erased.
Murray, Associate Professor of Education at Centre, said that Valente's passion was clear in her work.
"Working with Veronica is such a pleasure," Murray said. "I have learned so much about her specific area of interest in language revitalization. She has had the determination necessary to see a project such as JCY through to completion even when faced with difficulties."
Valente's research can bring awareness to the topic, Murray said. Through the JCY scholarship program, Valente was given the support to dive into something that she was invested in.
"I think Veronica's topic provides more awareness to language activism. Her use of storytelling brings in a personal element to her work," Murray said. "(The JCY) program allows students to explore an area with which they are passionate. It also provides the time needed to truly delve into a project they might only marginally explore in a given class."
Valente was thankful for Murray and the JCY program opening doors she didn't think possible.
"Being a JCY scholar has been a phenomenal opportunity," she said. "I've had the chance to speak with many incredible and diverse people — everyone from Hollywood consultants to rap stars. I am so honored to have been trusted to share their stories with my home community."