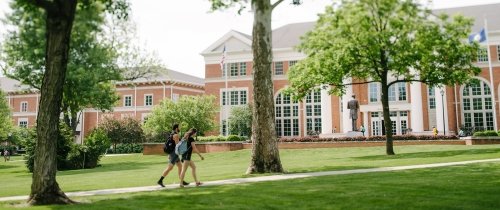 New faculty join Centre College for 2022-23
New faculty join Centre College for 2022-23
Centre College is proud to welcome the following diverse group of 16 new full-time faculty members representing all three academic divisions.
Vice President for Academic Affairs and Dean of the College Ellen Goldey notes, "I am pleased to welcome such a talented group of new colleagues to Centre College." She adds, "This group will contribute expertise and diverse perspectives to a Centre community engaged in important conversations and strategic planning; a community devoted to always learning, growing and improving together."
Division I: Humanities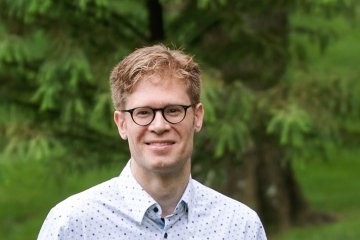 Andrew Brown, Visiting Assistant Professor of Studio Art
Andrew Brown graduated from Louisiana State University with an MFA in studio art: painting and drawing where he was a Dean's Medal recipient. He earned a BA at Towson University with a painting concentration and graduated magna cum laude.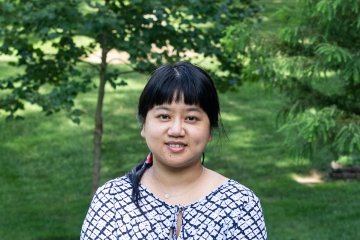 Jingjing Cai, Assistant Professor of Chinese
Jingjing Cai graduated from Indiana University with a PhD in Chinese literature and an MA in Chinese language pedagogy. She has published research articles, critical essays, and book and film reviews in scholarly journals, including Asian Women, Journal of Technology and Chinese Language Teaching, and Chinese Literature Today, as well as in the popular press. She currently works on a monograph that examines the intersection between gender and technology in Chinese science fiction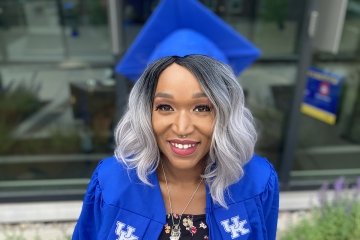 Shanita Jackson, Visiting Assistant Professor of English
Shanita (NitaJade) Jackson holds an MFA in creative writing from the University of Kentucky and a BA in African and African American studies, with a minor in theatre, from Berea College. They've been named an Affrilachian Poet, published in Poetry Northwest's winter/spring edition, and included in the Zora's Den: the Fire Inside Volume II anthology.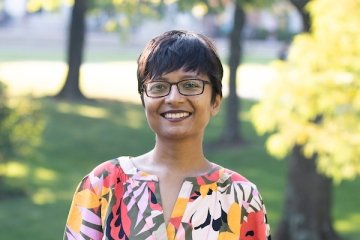 Anwesha Kundu, Assistant Professor of English
Anwesha Kundu earned a PhD in English literature at Washington University and an MA and BA in English literature at Jadavpur University in Kolkata, India.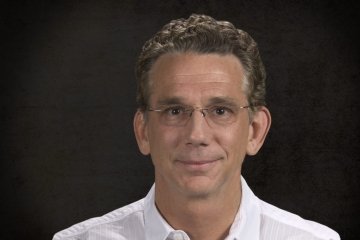 Patrick Martin, Professor of Art
Patrick Martin, a 1986 Centre graduate, taught at Emporia State University since 1999 before returning to Centre. In 2017, he earned the Roe R. Cross Distinguished Professor Award at Emporia State for his dedication to the glass-forming program and for preparing his students for professions after graduation. Martin earned a BA at Centre College, an MFA at Tulane University, and completed the Apprenticeship Program at the Appalachian Center for Crafts at Tennessee Technological University.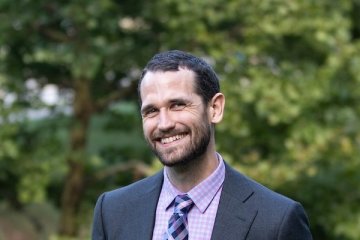 Daniel Tobin, Assistant Professor of Theatre
Daniel Bird Tobin is a director, performer, science communicator and theatre archaeologist. His work focuses on how to build compelling, emotionally-rich performances out of personal artifacts and scientific research. He has performed solo shows across the United States and in England, including An Iliad and Conqueror of the Western Marches, two favorites among many, as well as directed numerous shows, including highlights Angels in America, Part One and The Theory of Relativity. A graduate of the MFA in performance program at Arizona State University, he has trained and worked with Dance Exchange, the SITI Company, Tectonic Theatre Project, and the Globe Theatre in London.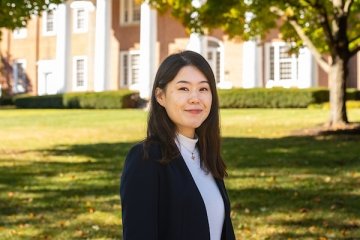 Mina Yoshimura, ALLEX Teaching Fellow of Japanese
Mina Yoshimura has a BA in international studies from Ryukoku University. Her fields of study include linguistics, Japanese pedagogy and education.
Division II: Social Studies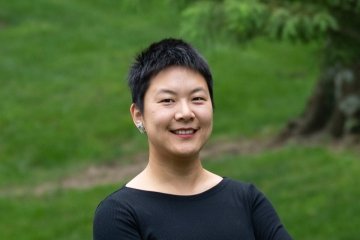 Ruwen Chang, Visiting Assistant Professor of Politics
Ruwen Chang graduated from the University of Kentucky with a PhD in gender and women's studies and a graduate certificate in social theory. She enjoys teaching gender politics, intersectionality, power and social justice. Her research interests are reproductive politics in contemporary China, especially how they are manifested in cultural discourse, public policy, marriage and personal desires.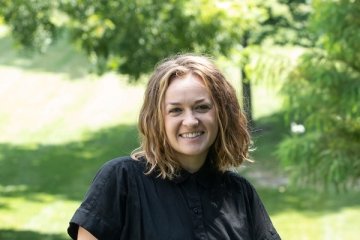 Kristen Kolenz, Assistant Professor of International Studies
Kristen Kolenz earned a PhD in women's, gender and sexuality studies at The Ohio State University and a BA in philosophy at John Carroll University. She is an interdisciplinary scholar of Latin American cultural studies, and her research focuses on grassroots resistance to state violence, mobility and confinement, and the transformative potential of community practices through the lens of decolonial and transnational feminisms.
Peter Lynch, Visiting Assistant Professor of Politics
Peter S. K. Lynch completed his PhD in American politics at the University of Kentucky, where he received the Malcolm E. Jewell Outstanding Graduate Student Award from the department of political science in 2022. The same year, he received the Outstanding Teaching Assistant from the College of Arts & Sciences. His research focuses on judicial politics and, specifically, the influence of the Federalist Society on law and judicial politics in the United States.
Division III: Science and Mathematics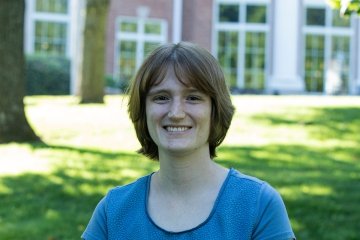 Emily Crabb, Assistant Professor of Physics
Emily Crabb is an assistant professor of physics. She graduated from the University of Pittsburgh with a BS in physics and a BSE in computer engineering. She earned her PhD in physics at the Massachusetts Institute of Technology. Her research interests include computational condensed matter physics and material science.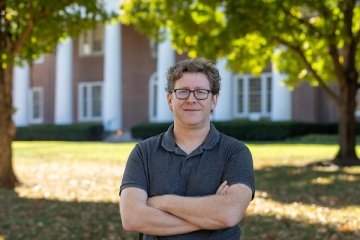 Andrew Hitron, Visiting Assistant Professor of Chemistry
Andrew Hitron earned a PhD in toxicology, a BS in biology, and a BA in chemistry at the University of Kentucky.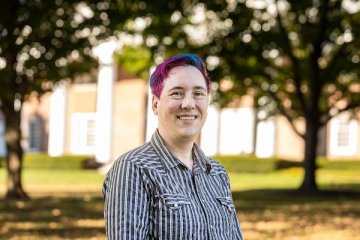 Kat Ray King, Visiting Assistant Professor of Biology
Kat Ray King graduated from the University of Louisville with a PhD, an MS, and a BS in biology. They were a 2019 S.K. Abell Fellow, an award for doctoral students pursuing research in discipline-based education research. Their research focuses on the ways that social influences manifest in college learning environments and how these can impact student learning.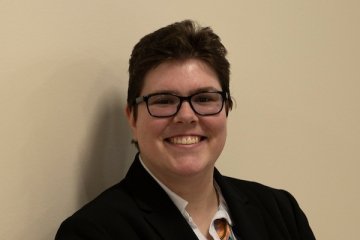 Dana Neidmann, Visiting Assistant Professor of Mathematics
Dana Neidmann's research is focused primarily in discrete mathematics. They explore the interplay between graph theory and number theory, studying directed graphs on the integers to prove results about non-standard number systems. They graduated summa cum laude from Carleton College in 2016 with a BA in mathematics and a concentration in cognitive science. They earned their MA in the teaching of mathematics and PhD in mathematics at the University of Illinois Urbana-Champaign.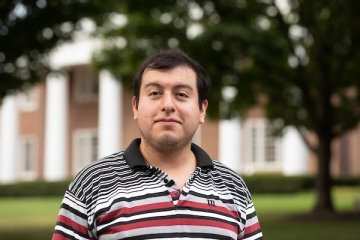 Oscar Zatarain-Vera, Visiting Assistant Professor of Mathematics
Oscar Zatarain-Vera spent a year teaching at the College of Saint Benedict and Saint John's University before joining Centre College. His areas of research interest are operator theory and its dynamics, and probabilistic analysis. He received a PhD in mathematics from Kent State University, an MSc from the National Autonomous University of Mexico (UNAM), and a BSc from the Autonomous University of the State of Hidalgo (UAEH).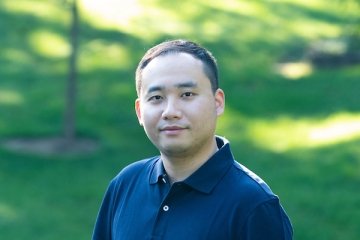 Ruohao Zhang, Assistant Professor of Data Science
Ruohao Zhang received a PhD in economics from Binghamton University, an MA in economics and an MS in statistics from Syracuse University. Ruohao's research interests focus on environmental regulation policies, environmental justice and social equity, and the linkage between pollution and public health. He explores the interdisciplinary setting in both teaching and research in many areas including data science, economics, remote sensing and public health.