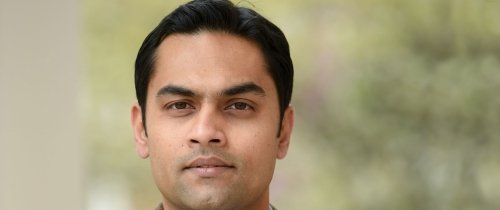 Radhakrishnan expands scholarship in economics
Radhakrishnan expands scholarship in economics
Centre College Associate Professor of Economics and Business Ravi Radhakrishnan has added to his work in the fields of political economy and economic growth.
Radhakrishnan, who also serves as chair of the Economics and Business Program at the College, was published in the latest issue of the Journal of Public Economic Theory. His paper, titled "Public Expenditure Allocation, Lobbying and Growth," is Radhakrishnan's third article published on this topic, and he has more in progress.
"My research looks at how lobbying affects the allocation of resources in an economy and, more importantly, how that effect unfolds over time," Radhakrishnan said. "I got motivated to write this paper after reading a couple of news/op-ed articles on how lobbying over federal government budget appropriations is one of the most important lobbying activities of firms.
"At the same time, we also find that the share of federal government budget going to sectors like education has fallen," he continued, "while the share going to sectors like healthcare and defense has increased."
Radhakrishnan specializes in growth theory: specifically, his goal is to understand how the interaction between firms and government affects the process of economic growth.
"In simple terms, this paper shows that lobbying activities can lead to higher than optimal levels of government spending," he said. "Further, it predicts that, if lobbying persists, then the share of government expenditure in sectors like education may continue to fall, while the share may keep rising in sectors like defense and healthcare."
Radhakrishnan's process to publication can take time: it "almost always" begins with real-world observation and asking relevant questions, followed by reviewing publications on the subject. Then, he works on developing economic representations of what he sees—he considers this the most difficult and intellectually rewarding part of the process.
Then, it's on to submission and peer feedback and revisions. Altogether, Radhakrishnan said the entire process can take anywhere from six months to a few years.
He says the process is important, because it reminds him why he enjoys his job.
"Observing the world around me and developing an understanding of the mechanism behind why certain phenomenon occur is just inherently rewarding to me," Radhakrishnan said. "That is the main reason I am in academia. Second, and equally important, sharing this knowledge with students is the most satisfying aspect of being a teacher. Finally, research helps me stay up to date with the latest findings in my field, and I am able to bring that to the classroom as well."
Radhakrishnan's work is relevant for his students as well: Congress recently passed the Inflation Reduction Act, where more than 300 billion in public funds will soon be lobbied for by special interest groups.
"I want my students to be keen observers of the world around them and want them to ask questions about what they observe," he said. "Eventually all research just boils down to that."