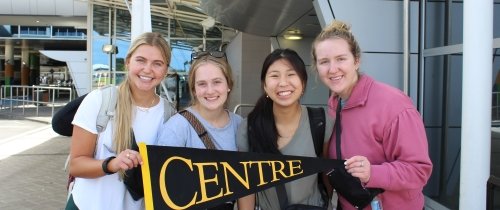 Students engage in immersive studies across the globe during CentreTerm '23
Students engage in immersive studies across the globe during CentreTerm '23
CentreTerm courses kicked off this week with 250 Centre College students in 13 different countries studying abroad/away for the three-week term.
The immersive one-course study during CentreTerm is a staple for the College. It is an opportunity for students to dive into unique experiences in settings that aren't a typical classroom.
"CentreTerm is a time when experiential learning, interdisciplinarity and creativity take center stage," said College Dean Ellen Goldey. "Whether on-campus or abroad, students and faculty get to focus all of their learning and energy into one course, immersing themselves mentally and physically into a topic of shared interest."
Among the variety of CentreTerm campus offerings are distinctive courses that provide hands-on study—A behavioral neuroscience class dubbed "Sexy, Tasty and Fly" will research the intrinsic role of chemical senses on fruit flies in the lab. Another course recognizes a famous American musician, Bob Dylan. The English course will dive into Dylan's life as a Nobel Prize winner and his endeavors in a multitude of mediums.
Students in "The Company" will produce a piece of theatre, working together to build their own theatrical production, while students taking "Visions of Wilderness" will travel to Red River Gorge and spend time rappelling, camping, kayaking and more.
CentreTerm students traveling abroad and away are engaging in global studies through an experiential lens.
In Ghana, students are immersed in the study of creative expression: native music, dance, storytelling or textiles, while those traveling to New Zealand are learning about the physical science of volcanoes. Students will study away in Lake Tahoe, California, where they will dive into their connection to nature – and spend time diving in the Pacific Ocean, too.
Students will spend time researching and observing primates in Barbados, while classmates in Thailand will engage with the United Nations Sustainable Development Goals.
Students are studying abroad/away in the following locations throughout CentreTerm '23:
·       Barbados
·       France
·       Ghana
·       Greece and Turkey
·       Japan
·       Lake Tahoe, California
·       Morocco and Spain
·       Merida, Mexico
·       Oaxaca, Mexico
·       New Zealand
·       Malaysia
·       Thailand
Follow the international adventures of CentreTerm students by searching #CentreAbroad on social media.