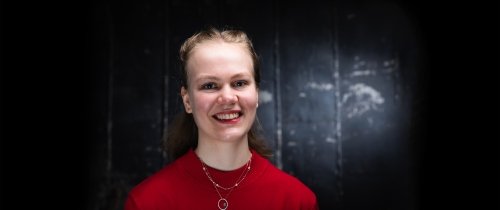 Uliana Bazavluk '23 first Centre student selected as Schwarzman Scholar
Uliana Bazavluk '23 first Centre student selected as Schwarzman Scholar
Uliana Bazavluk '23 has always been motivated to learn and explore the world. It was through Centre College's study abroad/away programs that she became inspired for a life of leadership and service.  
Now, as a newly named Schwarzman Scholar—Centre's first—she'll have the opportunity to study global affairs as part of the Schwarzman Scholars Program. Bazavluk was selected to be one of 151 scholars from a pool of nearly 3,000 applicants.  
Inspired by the Rhodes Scholarship program, the Schwarzman Scholars Program supports a one-year, fully funded master's degree program at the prestigious Tsinghua University in China.  
Bazavluk, a native of St. Petersburg, Russia, is majoring in French and international studies, while serving as co-president of the International Student Association on campus. She has studied abroad in Nantes, France and away in New York City during her time at Centre.
"The opportunity that Schwarzman offered—to be immersed in Chinese culture, history and politics, while joining a community of passionate young activists—was too tempting to miss and fully aligned with my aspirations," she said. "Considering the current geopolitical situation in the world, I strongly believe in intercultural dialogue. I am excited about this opportunity to engage global leaders in a conversation about cultural exchange and social change."  
Lori Hartmann, professor of international studies and director of the Center for Global Citizenship at Centre, has taught Bazavluk in class and recognized that she is not afraid to engage in difficult conversations, impressively speaking out during a convocation against her home country's invasion of Ukraine. Hartmann, along with Robert Schalkoff, director of the Lincoln Scholars Program, and Assistant Director of International Recruitment Joy Joy Htet, each wrote a letter of recommendation for Bazavluk to the Schwarzman selection committee.
"In addition to her interest in learning about new cultures and languages, Uliana is passionate about working to make changes for the better at the local, national and global level," Hartmann said. "Her campus leadership is evidence of these actions at the local level, and her tireless quest for more knowledge about diplomacy and education in the field of international relations reflects the national and global levels."
Bazavluk is a Lincoln Scholar at Centre, a full-scholarship program for students who have the capacity and a deep desire to change the world. As part of her New York City study away experience this fall, Bazavluk held a full-time internship with Catholic Charities Community Services (CCCS), where she had the opportunity to further her passion for change through global outreach.
"As a Ukraine Response Operations Aide in the CCCS Refugee Resettlement department, I work with Ukrainian refugees who have just arrived in the United States fleeing the Russian invasion of Ukraine," she said. "I provide case management services, referring individuals and families to resources including, but not limited to, housing, food, clothing, healthcare and mental health services.  
"This experience was my first real-life introduction to non-governmental organization work and social services, and it's been an illuminating learning curve," she continued. "I am so grateful for this chance to serve a very important community to me during a time when my own government is igniting violence and death." 
For the Schwarzman Scholars Program, Bazavluk worked on her application with Schalkoff as the director of the Office of Fellowships.
"Selection for Schwarzman is based on a candidate's past leadership experiences and their ability to articulate their current style of leadership as well as their leadership vision for a specific challenge our world is facing," Schalkoff said. "Uliana brought a wealth of on and off-campus leadership experiences to the table. She was able to construct a compelling narrative that neatly wove together her experiences advocating for international students on campus and her future goals to promote the growth and development of civic responsibility in her home country.  
"Her passion, drive, steadfast optimism, and self-confidence were abundantly clear in her application and mock interviews. She's very deserving of this award."
Bazavluk is grateful to Centre for opening the door, first as a Lincoln Scholar and then through study abroad/away programs, to transformative experiences that aided her in her application process to the Schwarzman Scholars program.
"I would not be at Centre—or, in fact, in the United States—if not for the financial aid and the academic support awarded to me," she said. "I am the first person in my family to receive an undergraduate degree at a foreign institution, and I can confidently say that Centre has already changed my life. I want to acknowledge and appreciate the amount of financial support that the College awards to international students, because it truly is transformative to so many of us."