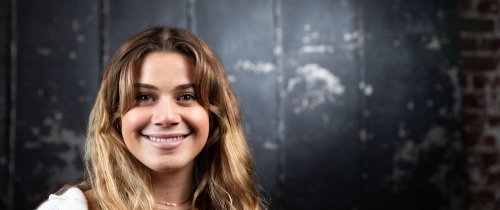 Willa Cipolla '22 creates music based on Acceptance and Commitment Theory
Willa Cipolla '22 creates music based on Acceptance and Commitment Theory
This article is part of a series featuring Centre College's 2022 John C. Young (JCY) Scholars. Centre's JCY program, now in its 32nd year, is designed to serve highly motivated seniors, allowing them to engage in independent study, research or artistic work in their major discipline or in an interdisciplinary area of their choosing. View the complete listing of JCY Scholar projects here.
John C. Young Scholar Willa Cipolla '22 (Bowling Green, Kentucky) completed her year-long research titled "The Creative Process of Acceptance & Commitment Theory as an Inspired Music Therapy Album," and presented her work at a symposium on April 23.
"For this John C. Young, I studied the theoretical and psychological framework of Acceptance and Commitment Theory (ACT) and applied the theory through a semester of counseling sessions that guided me through ACT Therapy," Cipolla explains.
Larry Bitenski, W. George Matton Professor of Music, was Cipolla's faculty mentor.
"Working with Willa on this project was a joy," Bitenski says. "I was so impressed that she had such a vision for her album early on, and she worked on it with a tremendous amount of diligence, inspiration, and obvious fun. The results are remarkable."
Cipolla's research is based on the Hexaflex Model, the key model of the ACT framework.
"The academic component of the study aimed at understanding the psychological phenomena/processes and research behind the six pivots of the Hexaflex Model (present moment, values, committed action, self as context, cognitive defusion and experiential acceptance)," Cipolla continues. "The musical aspect of the study involved me writing songs based on each of these six components. There are six songs that are educational in the sense that the mindfulness techniques learned in therapy and various points of significance from my research are embedded into the song lyrics.
"The other six songs, paired with the six educational ones, tell stories or realizations about something I have experienced in relation to each pivot, as well as indirect instructions for the listener on how to actively cultivate these skills, by applying their understanding of each respective educational song and each narrative song about an experience, to themselves. Essentially, each of the six pivots will be the central theme of two songs: (1) a song teaching about that component and (2) a song narrating my experience with cultivating that component and how the listener can apply it to their own life."
"She wrote, recorded, and produced an album of significant depth and complexity, with genre-defying songs that are extremely engaging," Bitenski continues. "I hope many others find her album both enjoyable and helpful as a therapeutic tool."
"My plans for the future are to continue writing, playing, and producing music—and hopefully go on tour with my first album soon," Cipolla says.
The album, Out of Your Mind, is free on all streaming platforms (Spotify, Apple Music, etc.)