The world is their stage: Cross-continent exchange program takes students on a drama-filled journey
The world is their stage: Cross-continent exchange program takes students on a drama-filled journey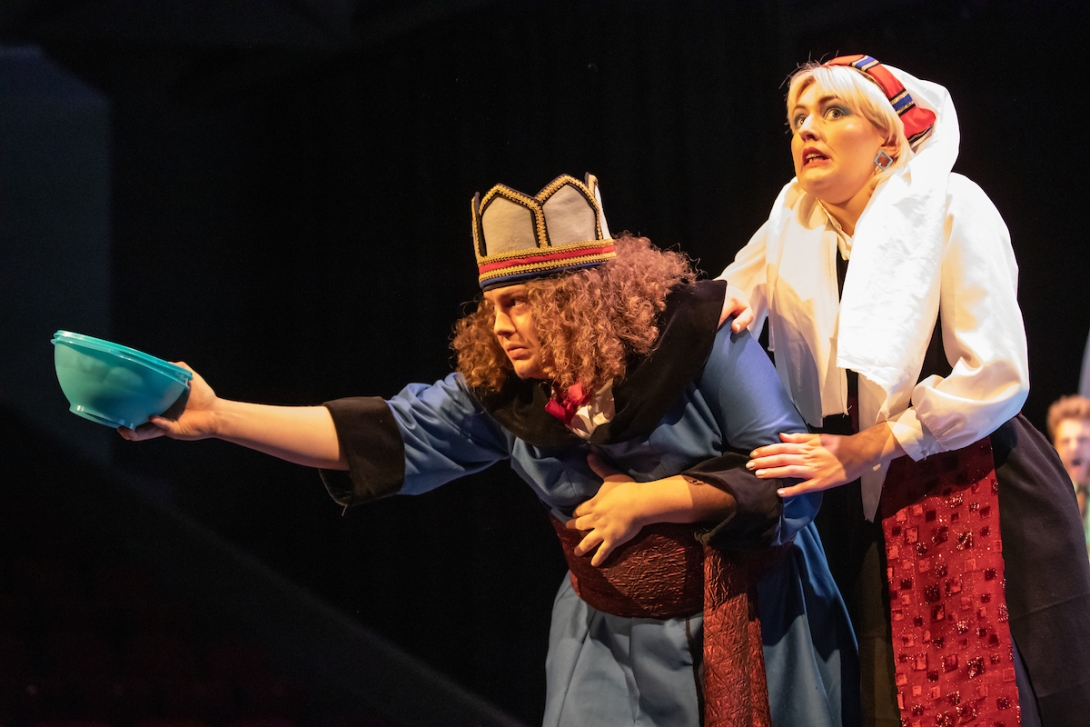 One of the top theatre schools in England has participated in a student exchange program with Centre College for the better part of the past two decades.
Inspired by his own time at Rose Bruford College, Professor Emeritus of Dramatic Arts Tony Haigh pushed for a relationship between Centre and Rose Bruford that has now provided an immersive opportunity for students at both schools.
"Universally, Centre students have said it is the most exciting experience they've had," Haigh said. "Rose Bruford students come here and say 'liberal arts education is fabulous,' because they really enjoy the breadth of what they get to do here. Both sides, I think, benefit from being able to do this."
Adam Taylor Brown '07, one of the first exchange students to make the trip from Danville to Rose Bruford, said he still dreams about being back in London. He won the West T. Hill directing prize as a student for his work in the arts. Now, he's a brand strategist and designer, working in marketing.
"The reason Centre students benefit from the depth of study at Rose Bruford is the same reason students from Rose Bruford get so much from the breadth of study at Centre: It exposes us to something new," he said. "It adds a lens to how you look at the world — you can't beat that kind of experience. It makes everything more colorful in the long run."
Brown's journey as a theatre major at Centre — and at Rose Bruford —started by selling his father on the idea that theatre wasn't just a narrow field that doesn't translate to broader career ambitions.
"I was able to convince him because Centre would provide a well-rounded experience outside of that subject area," Brown said. "At Centre, what you study is a vehicle for learning about a lot of different things — how to communicate, how to think, how to be a person in the world. The only reason I got to the place that I am now is because of the opportunities that were afforded to me in theatre."
Rhian Holmes spent his fall semester at Centre, performing in "The Language Archive" with Centre students. He said his time in Danville was valuable for the wide variety of experiences he had on campus.
"The main thing I've loved about my time at Centre has been the freedom of choice," she said. "In most United Kingdom universities, you tend to apply for a single course before you enroll and then study that for the entire time, so it's been great getting to sample different classes here from Gothic literature to film and theatre."
Holmes was shocked to see just how Centre students juggled working on "The Language Archive" performance and all other classes. At Rose Bruford, she said a production "would take up 100 percent of our schedule."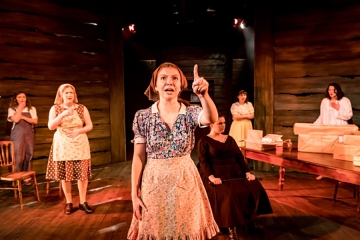 That is an aspect of the exchange that Columbia, South Carolina native Fletcher Meriwether '23 loved: He felt like he was on the job every day. Meriwether attended Rose Bruford in spring of 2022.
"For most of my time there, I had a class a couple of days a week, with the other eight to 12 hours of my day in rehearsals," he said. "I was a working, functioning actor for a theatre company. It was exhilarating."
Meriwether knew he wanted to focus on theatre after high school, whether at a college or conservatory. But one part of the Centre experience pushed his commitment.
"To be honest, one of my big motivations to come to Centre was the massive offerings for study abroad," he said. "I knew I wanted to do theatre in college. I looked at conservatories, some other liberal arts places, but I decided on Centre. That was because I could not only get a liberal arts education but also could study abroad at a place like Rose Bruford and get a taste of both worlds."
Like Meriwether, Caili Harris '23 spent time at Rose Bruford in 2022 and performed in two plays and was the assistant director for another.
"There's no other experience like it," Harris said. "It's a study abroad program that goes deeply into your major and art form, giving you hands-on experience and the chance to work on your personal library as a theatre artist. It was an experience that reminded me why I love theatre."
The program serves as a catalyst for Centre students, but isn't exclusive to those who want to stick with the performing arts as a career. Haigh said he knows priests, doctors and lawyers who are all Centre theatre program alumni: The perfect example of what makes a liberal arts and sciences education so valuable.
Haigh, now a Fellow of Rose Bruford College, said that two decades ago he was hoping this program would be exactly what it is today: a fulfilling experience for everyone involved.
"What touches me most is the heart in the process," he said. "The way that Centre students take the incoming students into their hearts, and the way that [Centre] students go there and get something completely fulfilling in that process."
---
At top: 
Fletcher Meriwether '23 (left) and Rose Bruford exchange student Rhian Holmes performed in "The Language Archive"  at Centre College.