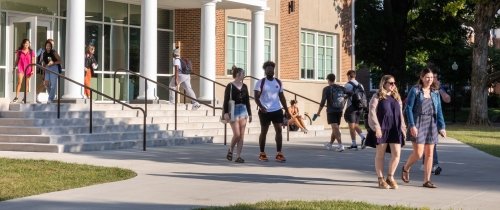 Governor's Scholars Program
Centre is a proud partner and host of the Governor's Scholars Program
Centre College will welcome the 2023 class of the Kentucky Governor's Scholars Program (GSP) to campus in June 2023, for the 34th year that Centre has hosted the five-week summer program for the state's brightest rising high school seniors. The Governor's Scholars Program was created in 1983 and the first summer was hosted by Centre College, an educational partnership that has proven to be a model of intellectual excellence.
Kentucky Governor's Scholars Program Scholarship 
Students who completed Kentucky's Governor's Scholars Program will be recognized with an automatic GSP Scholarship worth $120,000 ($30,000 annually for each of your four years of study) upon admission to Centre. The GSP Scholarship cannot be stacked on top of other general merit scholarships, but we encourage Scholars to explore our premier and special scholarship options for more specialized offerings. These separate scholarship deadlines range from November 15th to January 15th. 
The Governor's Scholar Program matches Centre's brand promise: to provide a supportive community and a flexible, personal academic path to a meaningful life and career.
More information about the 2023 Governor's Scholars Program will be available in Spring 2023.