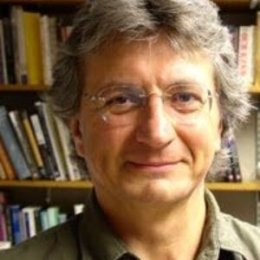 A. Endre Nyerges
Professor of Anthropology
Offices & Programs
Education
BA: Earlham College
MA: University of Pennsylvania
PhD: University of Pennsylvania
Expertise
Cultural anthropology — Food production in Africa; Editor of The Ecology of Practice: Studies of Food Crop Production in Sub-Saharan West Africa (Gordon and Breach, 1998), part of a series; Research on ethnography and ecology in Africa and the Middle East.
Biography
Endre Nyerges joined the Centre College faculty in 1997 as a visiting professor, having previously taught at the University of Kentucky. He was named associate professor of anthropology the following year and became professor of anthropology in 2007. He has chaired Anthropology/Sociology and Environmental Studies and is an active member of both major programs.
A veteran of ethnological and ecological field research in Iran and Sierra Leone, Nyerges has edited two volumes of scholarly work in anthropology and has published extensively in scholarly books and journals. His current research concerns the remote sensing of environmental change in West African Guinea savanna.
Nyerges holds a B.A. from Earlham College, and M.A. and Ph.D. degrees from the University of Pennsylvania. He is a member of Phi Beta Kappa.