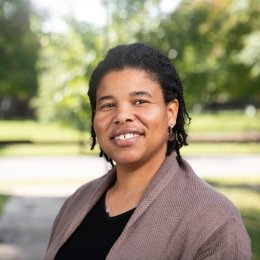 Jessica Chisley
Assistant Director of Diversity, Equity, and Inclusion Programming
Offices & Programs
BIOGRAPHY
Jessica is the assistant director of diversity & inclusion programming. She is also a Posse Mentor and has served on the College's Staff Congress. Prior to beginning her work in the ODI office, she coached for 16 years with the women's soccer program where she was promoted to associate head coach in 2015. As well, during her time within the athletics department, she served in various roles including assistant coach within the women's basketball and women's lacrosse programs, respectively, assistant director of the Buck Fitness Center, and served as a communications assistant for the Athletics Communications office.
AWARDS
In 2022 she received the Brad Hundley Award, an annual award given by the Student Government Association to a staff member who exhibits exceptional devotion to the welfare of the Centre College student body.
EDUCATION
Jessica earned a Bachelor of Arts Degree from Centre College and a Master of Science Degree from the University of Southern Mississippi.