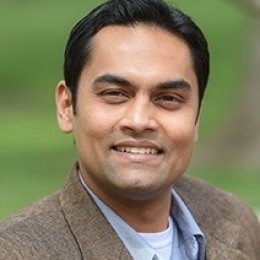 Ravi Radhakrishnan
Associate Professor of Economics and Business
Economics and Business Program Chair
Offices & Programs
Education
BA: Economics, Delhi University
MA: Economics, Delhi University
PhD: Economics, Virginia Tech
BIOGRAPHY
Dr. Ravi Radhakrishnan joined Centre College in 2012 as an Assistant Professor of Economics. His area of specialization is growth theory with a focus on the role of rent-seeking activities like lobbying on long-run productivity growth. Another area of his work focuses on intellectual property rights and economic growth. His research in these areas has appeared in several peer-reviewed journals in economics. Dr. Radhakrishnan was named Centre Scholar during 2017-2019 for excellence in scholarship, teaching, and service to the college. 
COURSES TAUGHT
Macroeconomic Analysis
Economic Growth
Money and Banking
International Trade
Topics in Monetary Policy. 
PUBLICATIONS
1. "Public expenditure allocation, lobbying, and growth", forthcoming, Journal of Public Economic Theory. 
2. "Productivity growth and welfare in a model of allocative inefficiency", Journal of Economics, Vol.123(3), 2018 
3. "Trade and Growth in a Model of Allocative Inefficiencies", B.E. Journal of Macroeconomics, Vol. 17(2), 2017