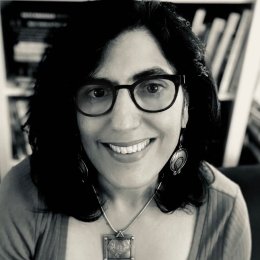 Shana Sippy
Associate Professor of Religion
Chair of Asian Studies
Offices & Programs
Education
BA: History and Religion, Barnard College
MA: Harvard Divinity School
PhD: Columbia University
BIOGRAPHY
Shana Sippy is an Associate Professor of Religion and Chair of Asian Studies at Centre College, where she has taught since 2017.
RESEARCH AND PUBLICATIONS
Her book Diasporic Desires: Making Hindus and the Cultivation of Longing, which focuses on the political and affective dimensions of contemporary Hinduism in North America is forthcoming from New York University Press. Her current research project, Strange and Storied Alliances: Hindus and Jews, India and Israel, focuses on the politics of interfaith solidarities and geo-political alliances.
AFFILIATIONS AND MEMBERSHIPS
She is a founding member of the Feminist Critical Hindu Studies Collective (a.k.a. the Auntylectuals). She is co-chair of the North American Hinduisms Unit and is a founding steering committee for the Intersectional Hindu Studies Seminar of the American Academy of Religion. At Centre College, she co-founded the Underrepresented Faculty Council and Faculty for Justice with Dr. Dina Badie. She is also co-director with Michael McNally of ReligionsMN and a Research Associate in the Department of Religion at Carleton College, where she taught for eight years prior to coming to Centre College. Over the last dozen years, she has sought to develop public understanding of religion and explore issues of inequity and justice. In collaboration with Twin Cities Public Television (TPT) and the Minnesota Humanities Center, with the support of grants, she has just completed a series of four documentary shorts, entitled Sacred Minnesota in collaboration with Twin Cities Public Television and the Minnesota Humanities Center. Links to additional scholarly work and publications can be found here.