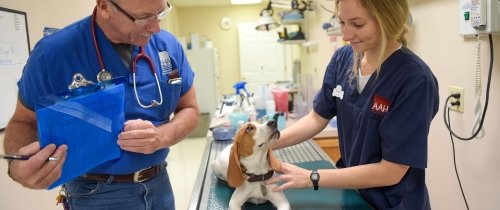 Veterinarians care for the health of animals and work to improve public health. They diagnose, treat, and research medical conditions and diseases of pets, livestock, and other animals. Most veterinarians work in private clinics and hospitals while others travel to farms, work in laboratories or classrooms, or work for the government.
Overview
Although it is not necessary to major in a specific discipline to gain admission to veterinary school, most students major in one of the life sciences as excellent preparation for veterinary studies. Centre College offers all of the courses necessary to gain admission to veterinary school. In general, students applying to veterinary school are expected to have completed at least two semesters of biology with lab, two semesters of physics with lab, and four semesters of chemistry with lab, including inorganic and organic chemistry.
Students are encouraged to contact the veterinary schools in their home states to gain a better understanding of specific course requirements of these institutions. Because Kentucky does not have a veterinary school, the state has a contract arrangement with the College of Veterinary Medicine at Auburn University that reserves a specific portion of each entering class to Kentucky residents.
Veterinarians must have a Doctor of Veterinary Medicine degree from an accredited veterinary college, as well as a state license.
Curriculum
Students interested in pursuing a degree in veterinary medicine after Centre should expect to take courses in biology, chemistry, and other disciplines.