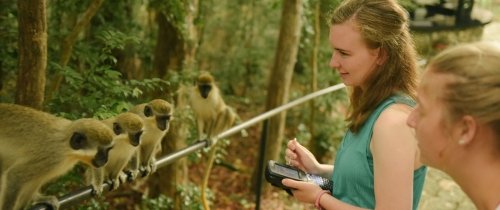 Psychology students are provided a thorough background in the basic concepts, theories, and experimental findings in psychology, and a well-developed set of research skills and experience in thinking creatively and critically about the world using the information they have learned.
Overview
The Psychology Program assists students as they develop a thorough understanding of key ideas, works, persons, events, and issues within the discipline of psychology. Students enhance their understanding of scientific psychology by developing their research skills in a variety of settings ranging from laboratory to independent field research projects. In addition, students enrich their understanding of applied psychology through internships and course work. Finally, students strengthen and diversify their critical and creative thinking skills and their multidimensional communication skills in each of the above contexts.
In addition, the program seeks to provide students with the opportunity to contribute meaningfully to the scientific enterprise as undergraduates through their own research. The program provides students with a fine background for advanced training and work in both applied and scientific research areas.
Your Major Took You Where?
Psychology majors have gone on to a variety of graduate programs and careers.
Employers
City of Greenville – Mayor's Office
Nationwide Children's Hospital
Rolling Hills Hospital
University of Kentucky Hospital
VNA Care and Hospice
Postgraduate Study
Massachusetts College of Pharmacy & Health Sciences (M.S.N., nursing)
Spalding University (Psy.D., clinical psychology)
University of Denver (M.A., sport & performance psychology )
University of Kentucky (M.S.W., social work)
Vanderbilt University (M.S.N., women's health)
Curriculum
Psychology majors begin learning the fundamentals in courses such as Introduction to Psychology and Introduction to Research Methods. They continue in developmental, social, and abnormal psychology, as well as cognition, learning, and behavioral neuroscience. Upper-level courses including Personality, Motivation & Emotion, Psychology of Women, Cultural Psychology, Race & Ethnicity, and Health Psychology. Completion of the major includes participation in a capstone experience, either through a senior seminar course or collaborating with a faculty member to complete an advanced research project.