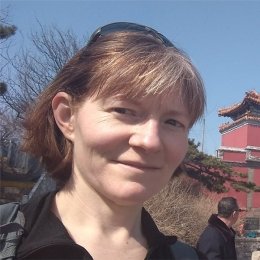 Jennifer Goetz
Marlene and David Grissom Associate Professor of Psychology
Offices & Programs
Education
BS: information and decision systems from Carnegie Mellon University
PhD: social and personality psychology from the University of California, Berkeley
BIOGRAPHY
Before joining the Centre College faculty, Jennifer Goetz was a Peace Corps volunteer in Niger, West Africa and taught at Middlebury College in Vermont. Dr. Goetz joined the Centre College faculty in 2011 and was promoted to associate professor in 2016. While at Centre, she has been awarded the Stodghill Research Professorship (2014), named a Centre Faculty Scholar (2018-2019), served as Chair of Psychology (2017-2021), and selected as a Diversity and Inclusion Faculty Fellow (2019-2020). During her sabbatical in 2018, she was a Visiting Scholar in the Psychology Department at Tsinghua University in Beijing, China. In 2020, Dr. Goetz was awarded the Marlene and David Grissom Associate Professor of Science (2020-2023) and she currently serves as proud mentor for ten scholars in the 15th cohort of Centre Posse.
Dr. Goetz is a social and cultural psychologist whose research specializes in emotional experience and culture. She studies how social, cultural, and evolutionary factors shape how people experience and express emotions like empathy and compassion, particularly in the US and China. Her research on these topics has appeared in Psychological Bulletin, Emotion, Psychological Science, Personality and Social Psychology Bulletin, and the Oxford Handbook on Compassion Science. In her early work, Dr. Goetz studied human-robot interaction to examine how humans anthropomorphize robots and respond to them as they would humans.
In a more recent line of research, Dr. Goetz has begun studying racial bias and how to reduce it. Inspired by her students, Dr. Goetz has studied racial climate and experiences of students of color, beliefs around implicit bias, and the usefulness of interventions to educate individuals about racial bias. She and her Centre College students have presented this work at a variety of regional and national conferences, including the Kentucky Academy of Sciences, the Midwestern Psychological Association, and the Society for the Psychological Study of Social Issues.
Coupled with this research, Dr. Goetz is working to make her classroom and Centre College more inclusive and more equitable spaces. To this end, she designed and led a 7-session workshop titled The Inclusive Classroom Series: Science & Math Edition in which Centre STEM faculty and administration learned about and developed methods for making their own classrooms more inclusive spaces. In summer 2020, she also organized two multi-day online workshops led by Truth Hunter (Connecticut College). The first was #WeAreInThisTogether: Supporting Our Students During the COVID-19 Pandemic. The second was Supporting Underrepresented Faculty and Staff. Finally, Dr. Goetz has co-led and organized a variety of learning communities and workshops for students, staff, and faculty on Anti-Racism, Inclusive Pedagogy, and Implicit Bias and brought in multiple speakers on topics of racism and equity, including Dr. Jeanine Abrams McLean (Fair Count), Dr. Christopher Marshburn (University of Kentucky), and Dr. Elizabeth Page-Gould (University of Toronto).
COURSES TAUGHT
Cultural Psychology
Motivation and Emotion
Psychology of Race and Ethnicity
Experimental Methods
Students mentor in independent research