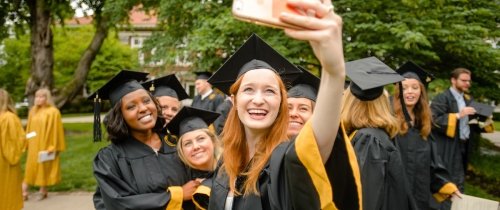 Cost of Attendance
A Centre education is more affordable than you think—most students do not pay the full "sticker price."
Your out-of-pocket expenses are what we call the "cost after aid" — this cost will vary based on the amount of financial aid you are offered. Centre will award over $47 million in scholarships and grants this year. Check out the examples of real financial aid packages below or connect with us today to find out how we can help make this investment in your future affordable for you and your family. 
2023-2024 Annual Cost of Attendance 
| | |
| --- | --- |
| Tuition | $50,250 |
| Housing & Food | $13,040 |
| Student Fee | $300 |
| TOTAL | $63,590 |
Included in tuition and housing and food is access to physical and mental health care at Centre's Student Health & Counseling center. In addition, we estimate the average student will spend about $3,290 for related expenses, such as books, transportation, and personal expenses. At Centre though, more than 90% of the students don't pay this much. The Student Fee helps to cover the rich co-curricular programs, services, performance, recreational activities and other events throughout the term which benefit students and complement our faculty lead instruction.