AmeriCorps partnership brings new student opportunities
AmeriCorps partnership brings new student opportunities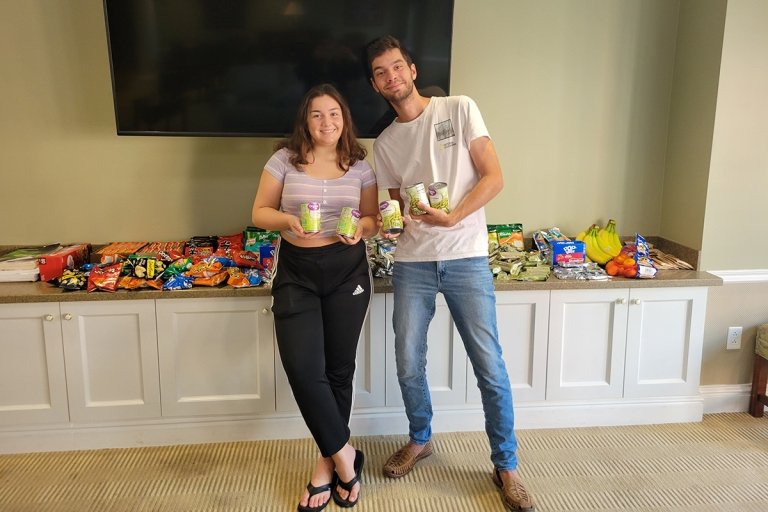 This summer, Centre College's Office of Civic & Community Engagement (OCCE) and the Bonner Program launched the Centre Summer Community Corps, offering new experiential learning opportunities for students in partnership with Kentucky Campus Compact (KyCC). The collaboration was able to secure nine AmeriCorps positions so that students could work and gain valuable experience on campus and in the Danville community.
"This new program demonstrates Centre's commitment to community engagement and funded opportunities for our students, recent grads and community members to engage in service and get real world experience," says Jessie Weasner, director of OCCE and the Bonner Program. 
"The summer AmeriCorps internship program was created to help fill needs on campuses and in the local communities," says Mindy Wilson, KyCC AmeriCorps program manager. "The students participating received a monthly living allowance as well as funding from a Segal Education Award." 
Lorena Bonet Velazquez '23 is serving with Centro Latino, a local non-profit whose mission is to build quality relationships between Spanish speakers and the general community through education, health care, and social justice. The organization's director, Chris Claunch, has high praise for Bonet Velazquez. 
"Lorena is wonderful," Claunch says. "She has a heart for helping others and understands what is culturally appropriate for our community. She approaches people with poise and compassion but is tenacious about accomplishing what she sets out to do." 
During the internship, Bonet Velazquez created a webpage, in both English and Spanish, highlighting the many resources available to the local Spanish-speaking community. She also co-directed the summer education program for kindergarten through fifth-grade students. 
Emma Mittmesser '22 researched peer health education programs around the country for her Americorps summer internship. 
"This work provides an important foundation for building out Centre's own programs on holistic student well-being — a key focus in the student life office for the upcoming year and beyond," says Barbara LoMonaco, vice president for student life. 
"Emma reported directly to me and is a talented recent grad who will be attending the University of Louisville in the fall to receive her master's in counseling," LoMonaco added. 
Other Centre students and recent graduates are serving in the following locations:
• Hannah DiDomenico '22 and Nathan Whitlock '22 are working with Centre's campus garden and campus food pantry.
• Caitlyn Barnes '23 is working with Centre's Bonner Program.
• Hannah Botts '25 is working with Kentuckians for the Commonwealth, an organization working for land reform, environmental justice, and low-income assistance programs.
• Jenna Haines '25 is working with Danville's Bluebird Market, a second-hand store that helps support Wilderness Trace Child Development Center.
• Emilee Pack (a community member) is working with McDowell House Museum.
• Ben Justice '24 is working with Centre's Fellowship Programs.
"In addition to this summer program, we are excited that Centre will host two full-time Kentucky College Coaches during the 2022-2023 academic year to help support community-engaged learning and community outreach," Wilson continues. These AmeriCorps service members are tasked with acting as coaches to select students, helping them be successful in all aspects of their school career.