Bonner Sophomore Service Exchange provides service, focus on local African American history
Bonner Sophomore Service Exchange provides service, focus on local African American history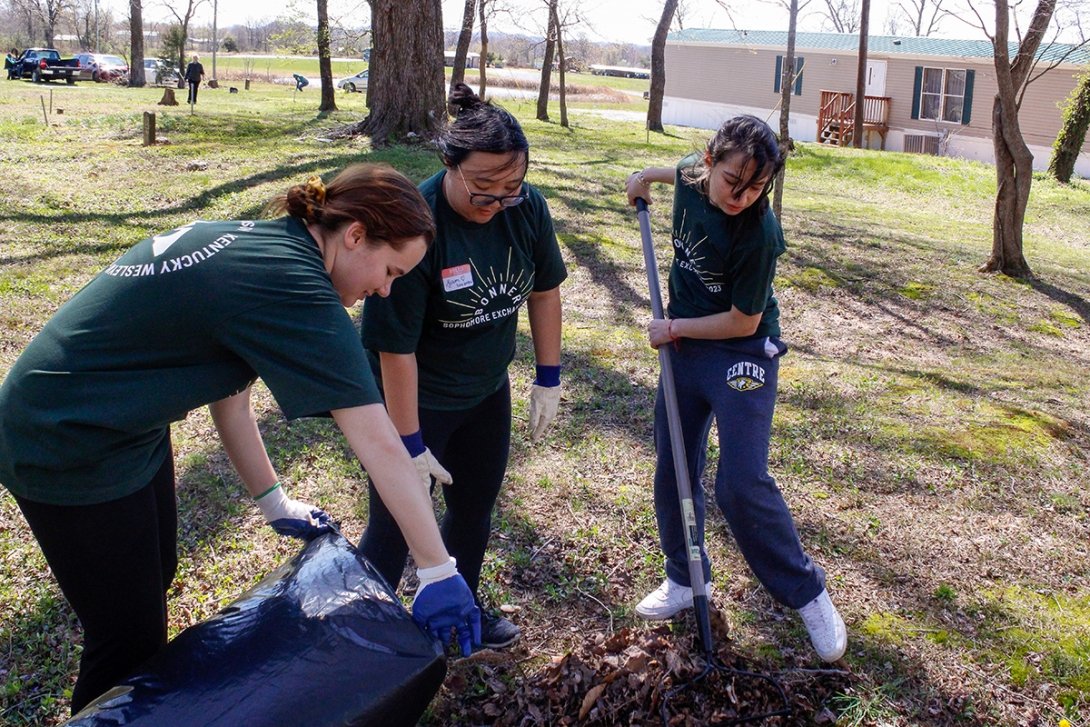 Bonner students from Lindsey Wilson College, Kentucky Wesleyan College and Berea College joined with Centre College students in Danville, Kentucky for a weekend of service in the community.
Centre College's Bonner Program wanted to focus its yearly service exchange project on something that visiting Bonner students from other schools could take back to their communities.
Centre Bonner students worked with community partners to meet that goal — and participating students said it made for an impactful weekend. Bonner students from Lindsey Wilson College, Kentucky Wesleyan College and Berea College were all in attendance.
The exchange weekend provided Bonner students from across the state a chance to learn from the work and experiences of their peers, as well as instructors at their home institutions.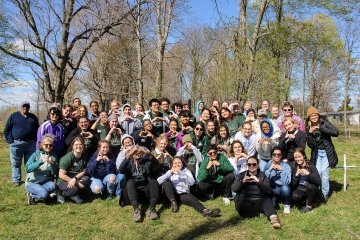 Bonner students first toured the award-winning "We Were Here" exhibit, which details the devastating effects urban renewal had on Danville's African American community, and then heard from local leaders Cindy Peck, Michael Hughes and Danville Mayor J.H. Atkins.
Peck is a founding member and Treasurer of the Central Kentucky African American Cemetery Association and Hughes is the current president of the Danville/Boyle County African American Historical Society. Atkins is the first Black mayor in Danville's history.
"All three gave us really good context about the African American community in Danville,"  Centre sophomore and Bonner student Hailey Dant said. "Then going out to the Shelby Cemetery — seeing it all was eye opening and brought the exhibit into perspective."
Students spent the afternoon cleaning up the Shelby City Cemetery, which helped Peck identify more grave sites at the historic African American cemetery that remain unmarked.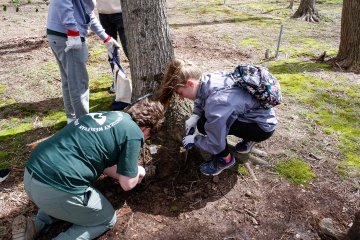 "I joined the Bonner program because I wanted to be more involved in service in the community," Dant said. "Two girls from Lindsey Wilson said they thought it was a great opportunity, because they could take what they learned into their own communities."
"I hope that the other Bonners were able to learn about the history of Danville and its African American community," added Mary Gonzalez, a sophomore Bonner student at Centre. "We wanted to share the importance of being able to help out our community — even if it is something as small as doing some maintenance like raking leaves or collecting artifacts to be examined from the cemetery. After all, the goal of Bonner is to serve the community."
Gonzalez, a Louisville native and biology major, represented Centre at the annual Bonner Congress held in her hometown last year. She was on the logistics team for the Bonner exchange weekend, helping to organize events for the visiting students. The Centre students identified the "We Were Here" exhibit as an important part of the exchange because of its local significance.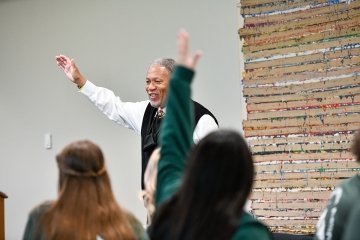 "We had decided early on that the focus of our day would be the exhibit," Centre Bonner student Alli Barrows, class of 2025, said. "We wanted speakers who would be able to shed some light into this exhibit as well as the wider Danville community. All of the speakers are leaders in service and dedicated to the work they do. I found them to be passionate and inspirational."