Toast of the industry: Centre alumni share inside perspective on careers in bourbon
Toast of the industry: Centre alumni share inside perspective on careers in bourbon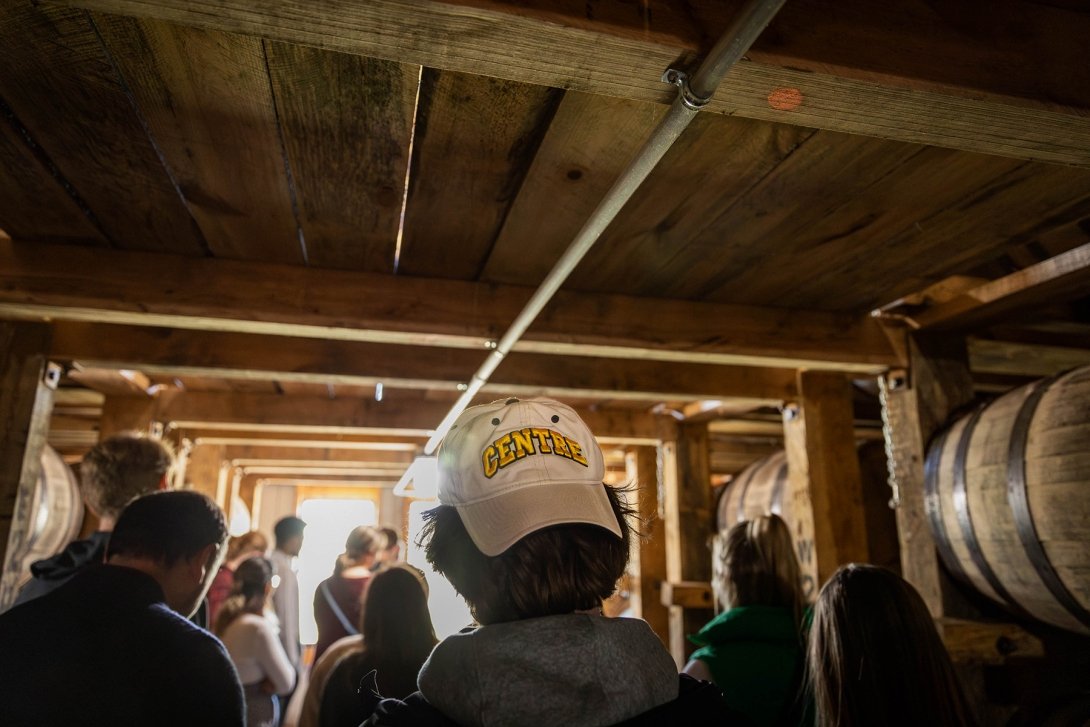 The Centre College alumni network showed its depth in the world of bourbon during a presentation for current students interested in the field.
Matt Blevins '99, Roy Lee Wigginton '08 and Marcus Niemann '12 spoke to students through the College's Center for Career and Professional Development.
"The panels are important for students to realize that their career options are not limited to their major," said associate director of internships Sharon Duncan, noting that Blevins (economics), Wigginton (sociology) and Niemann (chemistry) each had unique paths to their career in the bourbon industry — paths that began at Centre.
"I think hearing the alumni's career trajectory helps students broaden their expectations on what should happen and become more open to multiple career pathways," Duncan said. "Students can better imagine how academics and career interests ultimately blend together, and how the hard and soft skills that they learn in college will help them develop into successful professionals."
The presentation was part of Centre's Career Exploration Communities (CECs), which help students explore career paths in their field. Students interested in entertainment, business, entrepreneurship and science were all invited to attend the presentation. It was an opportunity for students to engage with industry insiders and see what they can do on campus to be career ready. 
The speakers talked about how the well-rounded nature of Centre's liberal arts and sciences education prepared them to excel in the business setting. 
"Hard skills get your foot in the door," Blevins said. "Then you can go explore and find ways you can continue to grow. While the hard skills can get you there, it's really the soft skills that will help you grow further."
Blevins is currently the chief marketing officer with Heaven Hill brands and spent time with Brown-Forman Corporation and the Jack Daniel's brand. 
After Wigginton graduated from Centre, he spent two more years working on campus in the student life office and with student activities. He got his start at Maker's Mark in tours and is currently a manager of distillery events.
"I think Centre helps with your willingness to take on more responsibility. Not everybody is cut out for that, but Centre students like a challenge," Wigginton said. "I think that's an asset that Centre doesn't necessarily teach on paper, but you leave with that skill whether you know it or not."
All three speakers mentioned Centre's low student-to-faculty ratio as a positive in their professional experience: Working with a team, compiling information and then communicating it to individuals who might not know the minutiae of the information is vital. 
Niemann earned a master's degree in biochemistry after Centre and said his passion in the field began in a biochemistry class with Boles Professor of Biology Peggy Richey. Niemann asked Richey for career advice, and she pointed him to Ferm-Solutions, a company whose co-founders also founded Wilderness Trail Distillery. Fast forward to today and Niemann is the director of quality and research and development for Michter's American Whiskeys.
The CEC event brought to life how students who may want a career in distilleries can build professional success on the foundation of a Centre education, Duncan said.
"I think a powerful takeaway is that our alumni presenters bring connection and legitimacy to the Centre experience in an extraordinary way," she said.